Black Rice Pudding Recipe
Black Rice Pudding, a delicious dessert made with Thai black rice (a.k.a. sticky rice), is lot healthier than a pudding made with normal white rice. Black rice has high nutritional values and contains 18 amino acids, various minerals, proteins and several important vitamins. That's not all, its mild nutty taste complements the flavor of coconut used in this recipe. Try this Thai dish as healthy breakfast and you will fall head over heel for it.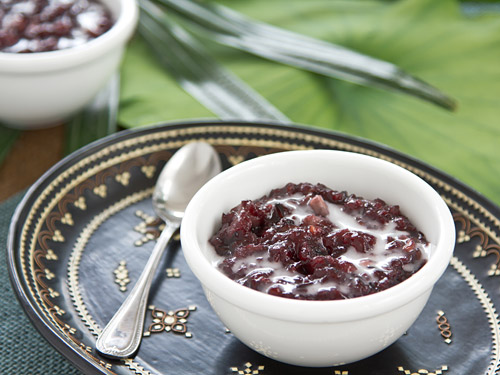 More Pudding Recipes
Preparation Time:
10 minutes + 6 hours
Ingredients:
1 cup Black Sticky Rice
3 cups Water
1/2 cup Sugar
1 cup Coconut Milk
a pinch of Salt
2 tablespoons Shredded Coconut, toasted
Directions:
Rinse black rice and soak in water for 6 hours or overnight. After soaking, notice its increased size.
Drain it and put in a heavy based pot or pan. Add 3 cups water and salt and bring mixture to boil over medium heat. When mixture starts to boil, cover pot or pan with a tight fitting lid and cook over low heat until the water is absorbed. Stir in between occasionally to prevent burning and sticking of rice.
Add coconut milk and sugar and stir until sugar is dissolved. Cook uncovered on medium-low heat for around 10 minutes until mixture is thick and rice is cooked, stir occasionally in between.
Remove pot from heat and let it cool at room temperature.
Transfer pudding to individual serving bowls and garnish with shredded coconut and coconut milk.
Thai sticky black rice pudding with coconut milk is ready, serve it warm or cold as per your choice.
Tips and Variations:
When fully cooked, it will have a light purple color.
Serving Ideas:
Serve it for healthy breakfast or as a creamy dessert.