Christmas celebrations are incomplete until it's celebrated with Christmas pudding, a traditional rich dessert. The dark brown colored and dense sponge textured pudding is the epitome of fine cooking skills which mankind has mastered over its evolution. This recipe uses traditional steam technique with finely balanced ingredients to get deeply flavored pudding which will immediately set mood for the best evening of the year.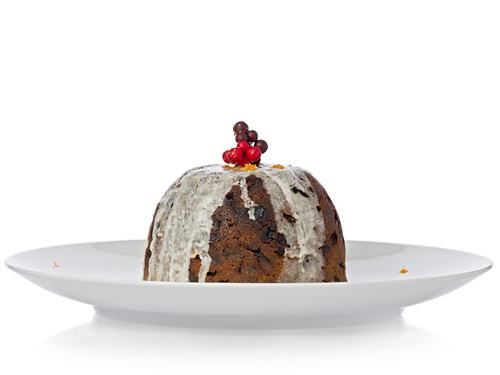 More Pudding Recipes
Preparation Time:
8 hrs 35 min
Ingredients:
1 cup Raisins
1/4 cup chopped Mixed Candied Peel
1/4 cup Currants
1/2 cup pitted and chopped Dried Dates
1/2 cup Sultanas (Golden Raisins)
2 tablespoons Brandy
Orange Juice from 1/2 orange
Lemon Juice from 1/2 lemon
3/4 small Cooking Apple, peeled and grated
1 cup Self-rising Flour
1/2 teaspoon Ground Cinnamon
1/2 teaspoon Ground Nutmeg
3/4 cup Brown Sugar
125 gms Butter, melted
2 large Eggs
1/4 cup Fresh Breadcrumbs
Directions:
Combine and mix raisins, mixed candied peels, currants, dried dates, sultanas, brandy, orange juice, lemon juice and grated apple in a large mixing bowl. Cover and set it aside for 8 hours to marinate.
Lightly grease 1.5-liter capacity pudding basin with butter.
Sift self-rising flour, ground cinnamon and ground nutmeg in another bowl.
Beat sugar and butter using electric hand beater until smooth and creamy. Add 1 egg-yolk at a time and beat until smooth for a minute. Add remaining egg-yolk and beat again.
Add flour mixture, breadcrumbs and marinated fruits mixture (prepared in step-1) in sugar-butter-egg mixture and stir to mix well.
Place a greaseproof paper disc on bottom of greased pudding basin and fill it with prepared mixture. Spread it using back of a spoon and smooth-out the surface. Cover it with a double layer of greaseproof paper and then tie with a string.
Place pudding basin over a sheet of aluminium foil and cover from down to top. Put another large sheet of aluminium foil over top and cover from top to down. Strongly tie string around basin, this will prevent water from entering into pudding while cooking.
Put a trivet in a large saucepan and place pudding basin over it. Fill it with water until filled halfway to basin. Cover saucepan and simmer for 7 hours. Check water level at frequent intervals and add water in large saucepan as required to maintain the level.
After 7 hours of steam cooking, remove basin from water and allow it to cool for 8 hours or overnight at room temperature. Discard wrappings and strings and again wrap it tightly in new greaseproof paper and aluminium foil. Store it in a cool dry place until Christmas.
On Christmas day, steam it for an hour before serving. Discard foil, paper and strings and turn it out in a plate and garnish as desired. Cut it into small portions and serve with custard or brandy butter.
Tips and Variations:
You can also use baking parchment (baking paper) in place of greaseproof paper.
Do not eat pudding immediately because taste is not matured yet as it requires time to set and flavors to mature.
Make it in advance for enhanced flavor and enjoy hassle free Christmas.
You can steam it in steamer set instead of steaming it in a pan.
Left over Christmas pudding can be easily reheated by wrapping it in aluminium foil and heating in a hot oven.
Taste:
It tastes heavenly sweet and has dark, sticky and dense sponge like texture.
Serving Ideas:
Serve hot pudding with chilled custard, ice cream or brandy butter. It tastes great with rum sauce as well.