Microwave Chocolate Pudding Recipe
With this microwave chocolate pudding recipe, you can prepare deliciously chocolaty pudding in just 10 minutes and delight your senses with its smooth and creamy texture in no time.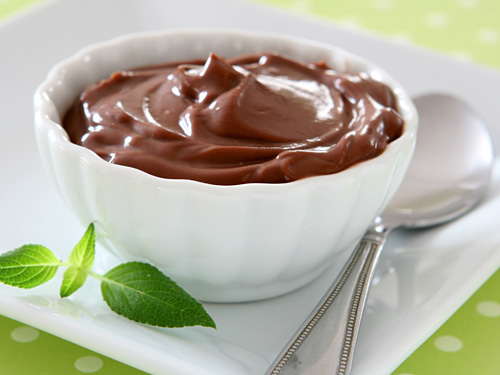 More Pudding Recipes
Preparation Time:
10 minutes
Ingredients:
4 tablespoons Cocoa Powder (unsweetened)
6 tablespoons Sugar
1½ cups Milk
2 tablespoons Cornstarch
1/2 teaspoon Vanilla extract
Salt
Rainbow Vermicelli (optional)
Directions:
Combine unsweetened cocoa powder, cornstarch, sugar and salt in a microwave safe glass bowl.
Slowly pour milk in it and stir using wire whisk until there are no lumps.
Microwave it on high for 2 minutes. Stir and microwave again on high for 4 minutes or until thickened, stirring every 1½ minutes in between.
Mix vanilla extract and stir well. Let it stand for 4-5 minutes while stirring occasionally in between to prevent pudding skin formation.
Serve it warm or place it in refrigerator for 20-30 minutes to chill.
Sprinkle rainbow vermicelli over it to give it a tempting look and serve.
Tips and Variations:
Sprinkle small candies and whipped cream over it before serving to kids.
You can also make chocolate pudding in traditional way with this double boiler recipe.
Taste:
Creamy sweet and chocolaty.
Serving Ideas:
This is a perfect instant snack for kids.