Mint Green Smoothie Recipe
Mint Green Smoothie is a healthy refreshing mint flavored drink that is a good option to serve in breakfast. This smoothie recipe has only 5 ingredients, Mint, Banana, Spinach, milk and Greek yogurt. Frozen banana is used in this smoothie to thicken and naturally sweetened it while spinach gives it a nice green color.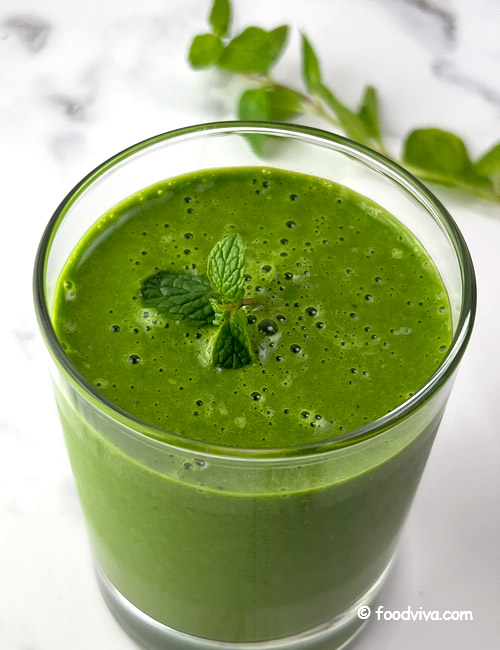 More Smoothie Recipes
Preparation Time:
5 minutes
Serves:
1 large or 2 small serving
Ingredients:
10-12 small Mint Leaves (or 5-6 large)
1 cup baby Spinach (or roughly chopped spinach leaves)
1 ripe Banana (fresh or frozen), sliced
1/2 cup unsweetened Almond Milk (or Coconut Milk or any milk) or Orange Juice
1/4 cup Greek Yogurt (or plain yogurt)
Directions:
Take all the ingredients to make the smoothie.

Add 1 cup baby spinach, 1 frozen banana, 10-12 small mint leaves (or 5-6 large), 1/2 cup unsweetened almond milk (or coconut milk or any milk) or orange juice and 1/4 cup greek yogurt (or plain yogurt) to the blender jar.

Blend until smooth and creamy.

If you like sweet smoothie, add 1 teaspoon honey or maple syrup along with other ingredients. Green Mint Smoothie is ready. Pour it into two small serving glasses and garnish with fresh mint leaves.
Tips and Variations:
If you like sweet smoothie, add 1 teaspoon honey or maple syrup or 1 date.
Adjust the amount of mint leaves according to how strong you like the mint flavor. Don't add too many mint leaves to the smoothie.
Add orange juice instead of milk or add 1-2 teaspoons fresh lime juice for variation.
Add 2 tablespoons chocolate chips to the prepared smoothie and blend it again for a few seconds to make Chocolate Mint Smoohtie.
Serving Ideas:
 Serve this green mint smoothie in the morning for breakfast.