Figgy Pudding, a traditional dessert for Christmas celebrations is more like a cake than a pudding. The perfect blend of fig, dates, dark chocolate and spices make it a must have dessert on table to celebrate the Christmas. There are many varieties and methods of traditional fig pudding which are complex and difficult to follow. However, this recipe is a simplified one for faster cooking and better taste and texture. Try this simple and traditional recipe and enjoy the Christmas, the traditional way.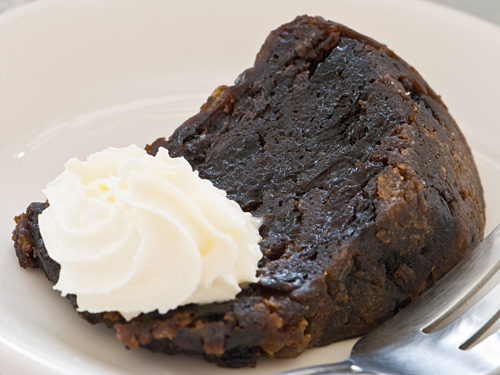 Preparation Time:
15 minutes
Ingredients:
1 cup chopped Dried Figs
1 cup pitted and chopped Dried Dates
2 cups Water
1/2 cup Brandy
1½ cups Self Raising Flour
1 teaspoon Baking Soda
1/2 cup Butter
1 cup Sugar Powder
2 Eggs
1 cup Breadcrumbs
1/2 teaspoon Ground Nutmeg
1/2 teaspoon grated Orange Zest
100 gms grated Dark Chocolate
Directions:
Put oven on preheat to 325 degrees F.
Sieve flour and keep aside until required. Grease and flour 9-inch diameter baking pan.
Mix chopped dates and chopped figs in a bowl. Heat water in a saucepan until it starts to boil and pour it over dates and figs in a bowl. Stir in baking soda and keep aside to cool for 7-10 minutes.
Transfer date and fig mixture to blender, add brandy and make a puree.
Take another bowl, beat butter and sugar in it until smooth. Add eggs and beat again until fluffy and light.
Fold in the flour, breadcrumbs, ground nutmeg, grated orange zest, pureed date and fig mixture and grated dark chocolate.
Pour prepared batter in a greased baking pan and place it in a preheated oven.
Bake until pudding is perfectly set or for around an hour. To verify if pudding is fully backed or not, insert the toothpick in center and check if it comes out clean. If it does, then it is properly cooked otherwise cook it more for 5-10 minutes.
After verifying that it is perfectly cooked, take out backing pan from the oven and let it cool for 15 minutes.
Turn out the prepared figgy pudding onto a serving plate and serve with cream or ice cream.
Tips and Variations:
For rich and exotic taste, add walnuts and raisins while preparing batter in step-6.
Instead of putting baking pan directly in oven, you can put a larger pan in oven, put a baking pan in the middle of it, pour hot water around it and let it cook for 3 to 4 hours. The fig pudding prepared using this technique is more traditional and better tasting but painfully slow to cook and requires frequent check to make sure that it does not get over cooked.
Taste:
The perfect combination of sweet taste with melt in mouth texture and mild flavor of chocolate and brandy is a delight in every spoonful.
Serving Ideas:
Figgy Pudding is traditionally a Christmas dessert offered to near and dear ones and Christmas carolers. Serve it with vanilla ice cream or top it with whipped cream for tempting look and creamy taste.