It is a delightful coffee flavored easy to prepare creamy dessert. The freshly brewed strong coffee, milk, sugar, cornstarch and egg yolk makes it flavorful and creamy while vanilla extract provides a complex yet delightful twist to its overall palatability. The whipped cream and shredded chocolate garnishing makes coffee pudding simply irresistible.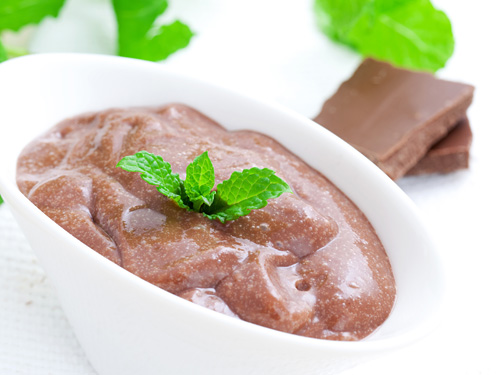 More Pudding Recipes
Preparation Time:
10 minutes
Cooking Time:
7 minutes + 2 hours
Ingredients:
1/4 cup Brewed Strong Coffee
1½ cups Whole Milk
1/2 teaspoon Vanilla Extract
1/4 teaspoon Cardamom Powder
4 tablespoons Sugar
2 tablespoons Cornstarch
Egg yolk of 1 large size egg, lightly beaten
Directions:
Whisk together cornstarch, milk, brewed coffee and sugar until smooth in a medium saucepan. Cook it on medium heat until sugar dissolves completely or for 2 minutes.
Take away saucepan from heat and gradually add lightly beaten egg yolk while stirring constantly.
Cook prepared mixture over medium-low heat until it is thick enough to coat the back of a spoon. Stir constantly; it will take around 5 minutes to cook properly for perfect pudding.
Remove saucepan from heat and stir in cardamom powder. Strain mixture (through strainer to remove any cornstarch lumps) and pour it into a large serving bowl or 3 individual serving bowls.
Let hot coffee flavored pudding cool at room temperature. Cover with plastic wrap and refrigerate for 2-3 hours.
Delicious and tempting coffee pudding is ready to delight your taste buds, garnish as desired and enjoy.
Tips and Variations:
If you like mild sweet pudding, then reduce quantity of sugar to 2 or 3 tablespoons. This will also enhance coffee taste as sweetness of sugar will not hide its flavor.
Serving Ideas:
Serve it as a dessert in parties for a great sweet ending. It is a widely preferred Christmas dessert as well.