Strawberry Rhubarb Freezer Jam Recipe
Strawberry Rhubarb Freezer Jam is a divine combination of fruit and vegetable in a single recipe. This jam is an absolute delight to taste buds as it does not spoil and change the taste of fresh strawberries. Learn how to make it with this recipe and savor the goodness of strawberry all through the year.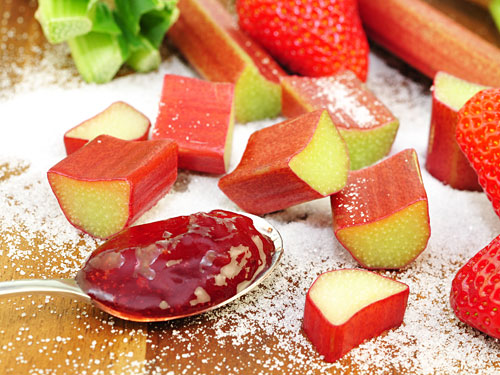 Preparation Time:
20 minutes.
Cooking Time:
10 minutes + 24 hours
Ingredients:
1 cup finely chopped Rhubarb
1 cup crushed Strawberry
1 package Sure Jell Fruit Pectin
4 cups Sugar
3/4 cup Water
8 oz plastic or glass containers
Directions:
Prepare containers for storing jam. Wash and dry them and if required, sterilize them.
Mix crushed strawberries, chopped rhubarb and sugar in a bowl. Mix them and rest for 10 minutes. Stir in between occasionally.
Mix 3/4 cup water and fruit pectin in a small pan and bring it to boil while stirring constantly. Boil for approx 1 minute and take away pan from heat.
Add prepared hot pectin syrup in strawberry and rhubarb mixture and stir constantly for 4-5 minutes or until sugar dissolves completely.
Fill containers with jam leaving 3/4 inch empty space on top for allowing Jam to expand during freezing.
Clean the containers and cover with lid immediately. Let them stand at room temperature for 24 hours.
Put label on each jar and mark them with name and date for better handling through the year.
Tempting and mouth watering strawberry and rhubarb freezer jam is ready.
It can be stored in a refrigerator for up to 3 weeks or in freezer for up to a year. Use it as you like it.
Tips and Variations:
Take an exact amount of ingredients to make perfect jam.
Do not use large containers.
You can use plastic or glass containers whichever are easily available.
Once jar is opened and thawed, use it up in a month's time and store it in a refrigerator.
Taste:
Sweet sugary taste of real strawberry and rhubarb.
Serving Ideas:
It can be used as a spread for breads, sandwiches, pancakes, muffins, etc. Prepare smoothies, shakes, etc using this strawberry preserve. Use it as a taste enhancer with roasted meats, poultry, etc.