Raspberry Freezer Jam Recipe
Raspberry Freezer Jam is a quick and easy to prepare jam without canning or long cooking process. There is no cooking of raspberry is involved in this recipe, hence it tastes as if you are eating fresh and juicy raspberry. Learn how to make this jam by following our easy recipe.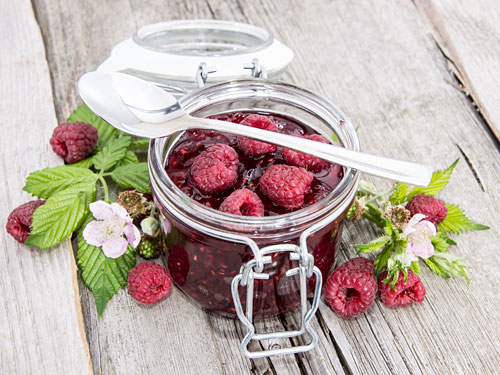 More Jam Recipes
Preparation Time:
20 minutes
Cooking Time:
10 minutes + 24 hours
Ingredients:
3 cups Crushed Raspberries
5¼ cups Sugar
1 package Sure-Jell Fruit Pectin
3/4 cup Water
8 oz containers to store the jam
Directions:
Wash and dry containers to have them ready for storing the jam.
In a big bowl, mix crushed raspberries and sugar. Stir and mix them using spatula and keep it aside for 10 minutes. Stir in between occasionally.
In a pan, mix 3/4 cup water and fruit pectin and stir well and avoid lumps. Boil and cook it while stirring constantly. Boil for approx 1 minute. Remove pan from heat.
Pour dissolved pectin over prepared raspberry mixture. Stir constantly for around 3-4 minutes and mix well to dissolve the sugar
Pour jam in clean and dry containers. Do not fill them up to the neck, keep 1/2 inch of head-space empty to allow jam's expansion during freezing.
Wipe the edges and sides of the containers. Cover containers with lid and close tightly.
Let them stand at room temperature for 24 hours.
Prepare labels for each container with name and date and label them for future ease of handling.
Store them in a refrigerator for up to 3 weeks or in freezer for up to 1 year and use it as you need it.
Tips and Variations:
To crush raspberries, mash them using potato masher 1-cup at a time for better result. You may also crush them using food processor. However, do not crush them into smooth puree; keep fruit chunks for better taste and texture of preserve. If you do not like seeds, then you can sieve the mixture and discard them.
Take the exact given measurement of sugar and crushed raspberry.
Use "No Cook Gelling Agent" to prepare this jam without any cooking. If you are using any other fruit pectin, then follow the instruction given on the package box.
Taste:
Sweet and natural taste of raspberry.
Serving Ideas:
Serve it as a spread with breads, sandwiches, etc. Top up ice cream, milk shake, pancakes or waffles with this yummy jam or use it as accompaniment with roasted poultry.