Plum Pudding is a traditional dessert served during Christmas. It is generally prepared much in advance to allow its flavors to mature as well as hassle free Christmas day celebrations. This homemade pudding recipe uses steam cooking method which allows it cook slowly with the heat of boiling water, which completely transforms its taste and texture.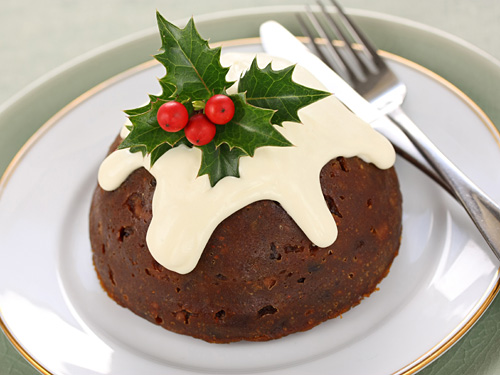 More Pudding Recipes
Preparation Time:
5 hours
Cooking Time:
7 hours + 1 hour
Ingredients:
1 cup Fresh White Bread crumbs
4 oz Butter
2 large Eggs
1 cup Self-rising Flour
1/2 cup Muscovado Sugar
1/2 teaspoon Baking Powder
1 small Apple, peeled and grated
1 small Carrot, peeled and grated
1/4 teaspoon Ground Cinnamon
1/4 teaspoon Ground Nutmeg
1/4 teaspoon Ground Cloves
1/4 teaspoon Ground Ginger
1/4 cup chopped Walnuts
2 tablespoons chopped Blanched Almonds
2 tablespoons chopped Glace Cherries
1 tablespoon chopped Candied Mixed Fruit Peels
1/2 cup Raisins
1/2 cup Sultanas (Golden Raisins)
Lemon Zest and Lemon Juice from 1 lemon
Orange Juice from 1 orange
3 tablespoons Whisky
Directions:
Combine grated apple, grated carrot, ground cinnamon, ground nutmeg, ground cloves, ground ginger, walnuts, almonds, glace cherries, candied mixed fruit peels, raisins, sultanas, lemon zest, lemon juice, orange juice and whisky in a large bowl and mix well. Cover and keep aside for 5 hours to marinate.
Beat butter and sugar in another bowl using electric hand blender. Add eggs and beat until smooth. Add self-rising flour and baking powder and mix thoroughly.
Add bread crumbs and egg-flour mixture (prepared in step-2) in fruit mixture (prepared in step-1) and stir to mix thoroughly.
Grease pudding basin (7 cup capacity), pour prepared mixture in it and cover with double layer of greaseproof paper. Again cover with a double layer of aluminium cooking foil and tightly tie string around its neck.
Place a saucer in a large pan and put pudding basin on saucer. Add water in pan until its level reaches half way through to the sides of basin. Bring water to boil and reduce heat. Cover pan with a tight fitting lid and simmer for 6 hours. Check water level at regular intervals while cooking and add water if required and maintain its level.
Remove basin from the pan and let it cool for 7 to 8 hours at room temperature.
Discard strings, papers and foils and again cover it in papers and foils and tie with a string.
You can keep it for months. When you want to serve, steam it again for couple of hours (as mentioned in step 6).
After reheating, discard strings, foils and papers and turn it out to serving plates, garnish with cream and serve.
Tips and Variations:
If you have used more dry fruits than fresh ones, then mixture would be dry, add 1-2 teaspoons milk to make it less dry in step-3. Let each family member take a turn stirring and make a wish (if you want to make Christmas more fun filled).
Cover and tie pudding basin securely with foils and strings to prevent water entering into pudding while cooking.
Make it in advance to enhance its rich taste and allow its flavors to mature.
Serving Ideas:
Serve plum pudding as a dessert in parties with fresh cream or butterscotch custard or with brandy butter.