Caramel Sauce, a rich and creamy ooey gooey sauce is a popular dip, spread or topping for desserts and cakes. It tastes much better than a ready-made one and it also allows you to get a custom taste and texture that you like most. Preparing this delicious dessert condiment at home is very easy with this recipe and it just takes around 10 minutes to be ready for serving.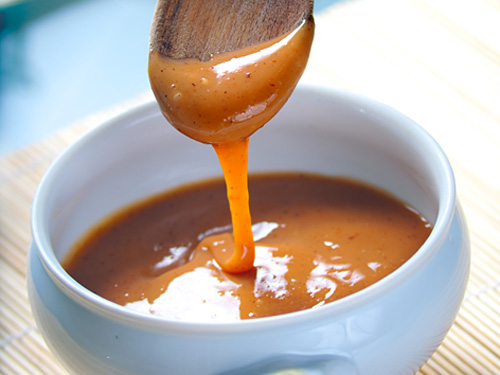 More Sauce Recipes
Preparation Time:
5 minutes
Ingredients:
1/4 cup + 1 tablespoons Heavy Cream
1/2 cup Sugar
3 tablespoons unsalted Butter
1/2 teaspoon Vanilla Extract
2 tablespoons Water
Directions:
Combine sugar and 2 tablespoons water in a heavy bottomed medium saucepan. Stir constantly and cook on low heat until sugar dissolves and turns golden brown. It will take approx 5 minutes for sugar syrup to turn golden brown.
As sugar dissolves, immediately add the butter and whisk until it melts.
Remove pan from the heat and stir in 1/4 cup heavy cream and vanilla extract. When you add the cream, the mixture will foam up.
Whisk until it is smooth and thick.
Let it cool in a pan for 4-5 minutes. Transfer it to serving bowl and serve it warm.
Caramel sauce will get thick as it cools. If you want to serve it cold, then add 1 tablespoon cream in hot sauce, mix well and let it cool at room temperature.
Tips and Variations:
In step-1, make sure that sugar does not burn. Burned sugar will completely change the taste and colour of a sauce.
It can be stored in refrigerator for anytime use. Just reheat in a microwave or on medium heat with constant stirring before serving.
Many people like to have little salty caramel. Use salted butter if you want to have a mildly salted taste.
Taste:
Sweet and creamy taste with ooey gooey texture.
Serving Ideas:
Warm caramel sauce is generally used as condiment to drizzle cake or bread pudding. Ice creams, desserts, bread pudding, etc, are garnished with cold sauce for visual temptation and flavorful taste.