Prepared Horseradish Recipe
Minerals rich prepared horseradish is used as an ingredient to make delicious horseradish sauce which is an excellent condiment for roasted beef. It can be easily made at home with fresh horseradish roots, salt and white vinegar. It has twice as strong taste and smell compared with store bought ones. Don't forget to read tips given below before proceeding to make it.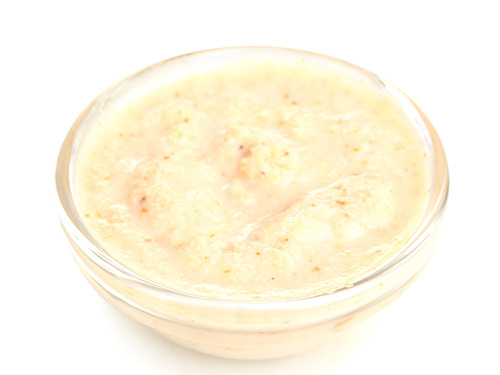 More Sauce Recipes
Preparation Time:
5 minutes
Ingredients:
1/2 cup peeled and chopped Horseradish Root
4 tablespoons White Vinegar
a pinch of Salt
Directions:
Process all ingredients in a food processor or blender until well ground.
A ground fresh horseradish has a strong smell, so keep your face away from container and carefully remove the lid of food processor.
Transfer it to a jar, cover and store in a refrigerator for 3 to 4 weeks. It can be kept for months in refrigerator. However, eventually it will start to darken, indicating it is losing its flavor and should be discarded.
Tips and Variations:
If you like to prepare hot horseradish, then blend chopped roots with 2 tablespoons water and salt. Then wait for 3 to 4 minutes, strain mixture if excess liquid and then add vinegar.
It has a very strong smell which can linger for a long time. If you do not want its smell to spread in your house, then prepare it in a back yard.
Grated horseradish irritates sinus and eyes. Be careful when you peel the skin and cut it into small pieces.
Taste:
It is hot and spicy having white to creamy-beige color
Serving Ideas:
It can be used to flavor various types of soups as well as enhance palatability of boiled ham or beef.