It is a nutritious and yummy Indian flat bread prepared using palak (spinach), wheat flour and other Indian spices. With this recipe's unique process, preparing delicious palak paratha (spinach paratha) is an extremely easy task; it just requires preparing a palak puree, using which dough is kneaded and paratha is cooked in a normal way. No stuffing, no mess, no nothing, just simple, easy and healthy. That's not all, garlic, chilli, ginger and coriander used in this recipe make it so delightfully tasty that it can rival the taste of stuffed one.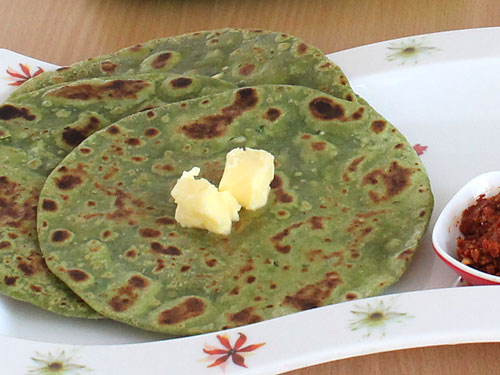 More Roti Paratha Recipes
Preparation Time:
20 minutes
Ingredients:
1½ cups (for dough) + 1/2 cup (for dusting) Wheat Flour
3/4 cup roughly chopped Palak (Spinach)
1/2 teaspoon roughly chopped Ginger
3 cloves Garlic
1 Green Chilli, chopped
2 tablespoons chopped Coriander Leaves
3 teaspoons + for shallow frying, Oil
Salt to taste
Butter, for serving
Directions:
Clean spinach and coriander leaves using water and remove dirt and impurities, if any. Chop spinach, coriander leaves, ginger, garlic and green chilli.

Grind spinach, green chilli, garlic, ginger and coriander leaves in a grinder or food processor and make a smooth puree. Do not add water while making puree.

Combine 1½ cups wheat flour, 2 teaspoons oil, salt and prepared spinach puree in a deep bowl. Add water as required and knead smooth and soft dough.

Grease the dough surface with 1 teaspoon oil. Cover it a plate or a clean muslin cloth and let it rest at room temperature for 20 minutes.

Take 1/2 cup dry wheat flour in a plate for dusting. After 20 minutes, divide it into 9 equal parts and give them a round ball shape. Take one dough ball and convert it into thick pattie by pressing between your palms or against rolling board. Lightly coat its entire surface with dry wheat flour.

With the help of rolling board and rolling pin, roll it out into round raw paratha of approx 6-7 inch diameter. It should be little bit thicker than phulka roti but less thicker than tandoori roti, (around 2-3 mm).

Place it on a heated tava/griddle and cook it as you would cook plain paratha. i.e Cook each side with 1/2 teaspoon oil until light golden brown spots appear on both sides. (Read detailed steps given in

plain paratha recipe

if you are a beginner.)

Place butter cube over hot palak parathas and serve them with tomato chutney, curd or pickle.
Tips and Variations:
Use blanched palak (spinach) and blanched onion (1 small size) to make onion palak puree for variation.
Knead very soft dough to make them softer.
Use 3 tablespoons chopped palak along with its puree for a tempting look.
Generally kids do not like green vegetables; however, you can prepare it with the stuffing of paneer for kids.
Taste:
Soft and mild spicy
Serving Ideas:
Healthy and easy to make palak paratha is a treat to taste buds when served with curd or with aloo tamatar sabzi and garlic chutney. Pack it in your kids's lunch box with pickle as healthy snack.