Tomato Chili Sauce Recipe
Tomato chili sauce, a hot and spicy tomato preserve, is one of the best tomato recipes. It is a must have spread for many Indian, Italian, Mexican and Thai recipes and can be enjoyed as a dip too. Enjoy it with nachos or bread sticks or as a spread for tangy spicy pizza.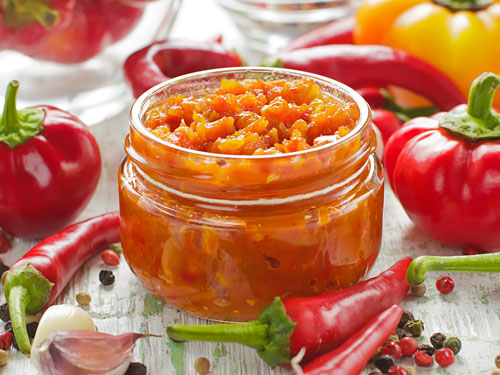 More Sauce Recipes
Preparation Time:
5 minutes
Ingredients:
1 Kg (2 lbs) Ripe Tomatoes, chopped into halves
2 Fresh Red Chili Peppers, minced
2 Garlic cloves, finely chopped
1/2 teaspoon Ground Paprika (Red Chilli Powder)
1/4 cup Vinegar
1/4 cup Sugar
1 teaspoon Corn Flour
2 teaspoons Water
Salt
Directions:
Blend chopped tomatoes, chopped garlic in a food processor or blender until smooth.
Pour it in a saucepan; add minced red chilli pepper, ground paprika, sugar, salt and vinegar. (You can adjust the quantity of fresh red chilli according to your taste to make it more or less hot and spicy).
Cook over low to medium heat until it becomes darker or for around 10-15 minutes. Keep stirring occasionally in between.
Strain and pour in to large bowl, discard tomato seeds. Transfer back to saucepan.
Dissolve 1 teaspoon corn flour in 2 teaspoons water and add it in tomato puree. Stir continuously and cook over low heat until mixture becomes thick.
Turn off heat and let it cool for 3-4 minutes.
Tomato sauce with chili is ready. Pour it in a sterilized jar or store in a refrigerator.
Tips and Variations:
Adjust quantity of sugar and red chilli according to your taste.
If fresh red chillies are not available, use dry red chillies.
Add black pepper powder and basil for nice aroma.
Taste:
Spicy and Tangy taste of chillies and tomatoes.
Serving Ideas:
Serve it with pizza and nachos. You can also enjoy it as a tangy and spicy dip with bread sticks. Use it for making tempting vegetable sandwich or as a dip for Indian snacks like samosa, kachori, bhajiya, etc.