Pineapple Carrot Juice, one of the best fresh vegetable juices with a touch of pineapple, is a welcome change from a routine canned juices. This recipe combines the goodness of carrot with pineapple in such a way that it not only makes it more refreshing and tasty but also retains dietary fibers, minerals and vitamins of both ingredients that store bought juices doesn't have.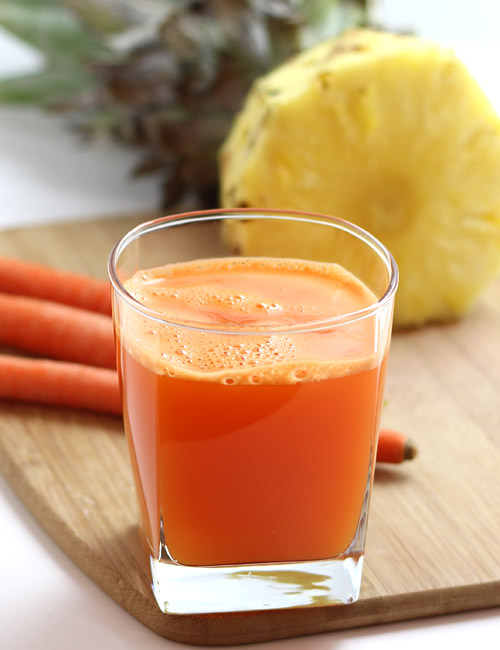 More Juice Recipes
Preparation Time:
5 minutes
Ingredients:
1½ cups Ripe Pineapple Pieces
3 medium size Carrots
1/4 Lemon or Lime
3/4 cup Water
Directions for Making Juice Without A Juicer:
If you are using organic carrots, no need to peel them. If not, peel them. Cut peeled carrots into large pieces.

Pour 3/4 cup water in a blender jar or a mixer grinder jar. Add pineapple pieces.

Add carrot pieces and juice from 1/4 lemon.

Blend all ingredients in blender or mixer until smooth puree.

Line cheesecloth (or muslin cloth) over a large bowl and pour prepared puree over it. You can also use a fine mesh strainer or a nut-milk bag to strain the juice.

Gather all sides of cheesecloth and squeeze to get maximum juice out of the pulp. Fresh juice of pineapple and carrot is ready, fill up two glasses with it and serve immediately.

Don't throw the pulp, you can use the pulp for making muffins or smoothies.
Directions for Making Carrot Pineapple Juice With Juicer:
Process pineapple and carrot alternatively through juicer and collect the juice in a container.
Mix the juice from 1/4 lemon with prepared juice. Pour the juice into serving glasses and serve.
Tips and Variations:
Feel free to increase or decrease the quantity of carrot and pineapple according to your choice and availability.
Add 2-3 ice cubes while blending to make it chilled.
Taste:
Tangy and mild sweet
Serving Ideas:
This is one of the best pineapple fruit juice recipes which also packs goodness of carrots, making it ideal to be served as breakfast drink.