Green Chilli Chutney! Hot and spicy but yet so desirable; the name itself makes juices flowing in the mouth and gives sizzling sensation to tongue. The sautéed green chillies, curry leaves, chana dal and shredded coconut crushed with coriander leaves and lemon juice gives it an irresistible taste and texture. Pair it up with Indian meal or snacks like pakora and gathiya and turn them in sizzling hot food.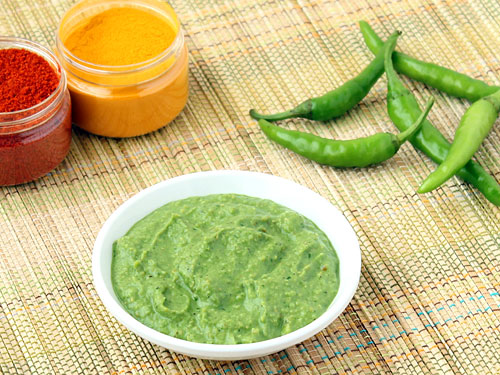 More Chutney Raita Recipes
Preparation Time:
10 minutes
Serves:
4 servings (1/3 cup)
Ingredients:
10 Green Chillies, seeded and chopped
2 teaspoons Chana Dal (Gram Lentils)
1/2 teaspoon finely chopped Ginger
3-4 Curry Leaves
1 tablespoon grated Dry Coconut
1/2 cup chopped Coriander Leaves
1 teaspoon Sugar or Jaggery
1 teaspoon Lemon Juice
1 tablespoon Cooking Oil
2 tablespoons Water
Salt
Directions:
Heat 1 tablespoon oil in a pan. Add chana dal and roast over low flame until dal turns light brown or for approx. 1-2 minutes.

Add curry leaves and chopped green chillies. Sauté for 2 minutes.

Add grated coconut and ginger and sauté for 1 minute. Remove pan from heat and let it cool a bit at room temperature.

Grind sautéed chilli-chana dal mixture, lemon juice, sugar, salt and water in a mixer to make a medium coarse paste.

Add coriander leaves and grind again to make a smooth paste.

Transfer prepared chutney to serving bowl. Green chilli chutney is ready. Serve it as an accompaniment with meal or as dip with snacks.
Tips and Variations:
Store this chutney in an airtight container for 4-5 days in refrigerator and use it anytime you need it.
Replace chana dal with equal amount of peanuts if former one is not available.
You can also use tamarind pulp instead of lemon juice to bring in taste balancing sourness.
If preferred, add some more water to make it diluted and thin.
Taste:
Very hot and spicy
Serving Ideas:
Due to its hot and spicy taste with balanced sweet and sour touch makes it an ideal chutney to be served with rice, chapati, Uttapam and Dosa. Add and mix curd with it and voila! delicious chutney for dahi vada, masala puri and bhel puri is ready.