Tomato and Chilli Chutney Recipe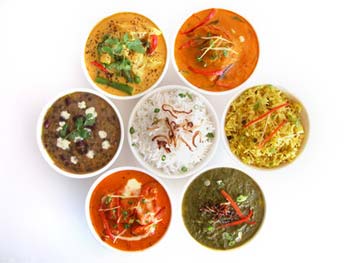 Tomato and chilli chutney, a tangy and spicy mix of pureed tomatoes, red chillies and spices, simply makes sandwiches irresistible. The garlic and ginger adds extra spicy zing which in turn compliments the tangy tomatoes and red hot chillies.
More Chutney Raita Recipes
Preparation Time:
10 minutes
Ingredients:
4 medium Tomatoes, diced into small pieces
3 Dry Red Chillies
2 Garlic Cloves
1 teaspoon chopped Ginger
1 tablespoon Sugar
1 tablespoon Cooking Oil
Salt
Directions:
Soak dry red chillies in water for 20 minutes. Drain and keep aside until needed.
Place diced tomatoes, garlic, ginger and soaked dry red chilli in a grinder. Grind until smooth puree.
Heat 1 tablespoon oil in a pan.
Add prepared tomato puree, salt to taste and sugar. Mix well and cook over low heat for approx. 10 minutes or until mixture gets thick. When oil starts to separate, take away pan from heat.
Allow mixture to cool at room temperature. When cooled, transfer it to a serving bowl.
Serve prepared tomato chilli chutney as a bread spread.
Tips and Variations:
Use canned/store bought tomato paste in place for ease of preparation.
Store it in refrigerator for up to 2-3 days and use it whenever you want to.
Use ripe red tomatoes and adjust sugar amount according to its tanginess.
Taste:
Sweet, Spicy and tangy
Serving Ideas:
Serve it as an accompaniment, condiment or dressing in lunch or dinner. However, its best to be served as sandwich or bread spread.