Kashmiri dum aloo is one of the most widely preferred north Indian curries. Baby potatoes are deep fried and then cooked in delicious gravy of curd and lots of spices like kashmiri red chillies, fennel powder, cardamom powder, cumin-coriander powder, ginger, garlic etc. Learn how to make authentic kashmiri dum aloo with this easy curry recipe with step by step photos.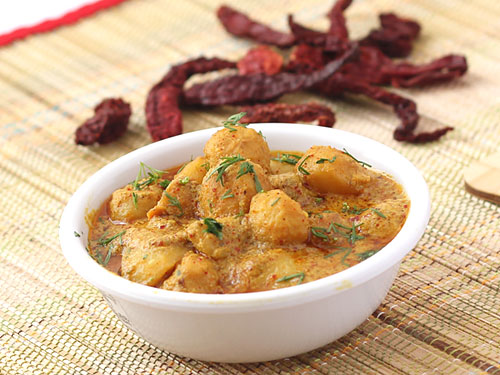 More Curry Recipes
Preparation Time:
20 minutes
Ingredients:
12 small Potatoes
1½ cups Curd (yogurt) (not sour)
4 Dry Kashmiri Red Chillies, deseeded and powdered
1 teaspoon Grated Fresh Ginger (or 1/2 teaspoon Dry Ginger Powder)
1 teaspoon crushed Garlic
1 tablespoon Cashew nut Powder
1/3 teaspoon Green Cardamom Powder
1/2 teaspoon Fennel Seed Powder
1/3 teaspoon Cumin Powder
1 teaspoon Coriander Powder
1 Bay Leaf, broken into pieces
1 pinch Asafoetida
1/4 teaspoon Turmeric Powder
1/2 teaspoon Garam Masala Powder
1 tablespoon Fresh Coriander Leaves, chopped (optional)
4 tablespoons + for deep frying Cooking Oil
Salt
1/3 cup Water
Directions:
Peel small potatoes and prick them with a fork. If small potatoes are not available, then chop large potatoes into big chunks and prick them. Soak them in salted water for 15 minutes.

Heat oil in a kadai for deep frying. Drain potatoes, wipe them clean and deep-fry them over medium heat until golden brown. Drain and transfer to plate.

Mix curd, Kashmiri chilli powder, ginger, garlic, cashew nut powder, fennel seed powder, cardamom powder, cumin powder and coriander powder in a small bowl. Whisk to mix flavor of all ingredients with each other.

Heat 4 tablespoons oil in another pan. Add bay leaves and asafoetida and sauté for 30 seconds.

Add 1/3 cup water, salt to taste and turmeric powder.

Bring mixture to boil and then add spiced curd (prepared in step-3) mixture.

When it starts to boil, add fried potatoes and garam masala powder.

Cook over medium heat until potatoes absorb the gravy and oil starts to come on the surface. Turn off the heat.

Transfer Kashmiri dum aloo to serving bowl and garnish with fresh coriander leaves.
Tips and Variations:
Add chopped onion and garlic paste in step-4 for variation.
Curd must not be sour otherwise prepared curry will taste sour.
Use boiled potatoes and sauté them in 1 tablespoon oil instead of frying them for less oily dum aloo kashmiri curry.
Serving Ideas:
Serve it with butter naan or tandoori roti or plain paratha or steamed rice for a lunch or dinner.