Pudina is a herb and it's known for its medicinal benefits for indigestion, acidity, headache, dental and skin diseases and it's an integral part of Indian cuisine. This pudina chutney recipe prepares extremely flavorsome and tempting chutney from fresh mint leaves and coriander leaves. However, its main taste comes from tamarind paste which gives nice tang to its spiciness while texture comes from fresh coconut.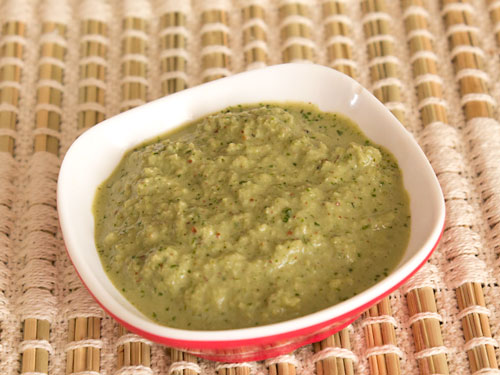 More Chutney Raita Recipes
Preparation Time:
10 minutes
Ingredients:
1/4 cup fresh pudina leaves (mint leaves)
1 cup chopped coriander leaves
1/2 cup grated fresh coconut
2 green chillies, chopped
1/2 inch piece ginger, chopped
2 teaspoons tamarind pulp or lemon juice
1 teaspoon sugar (optional)
1/3 teaspoon (or to taste) salt
1/2 cup water
Directions:
This recipe requires tamarind paste as an ingredient. You can easily find ready-made tamarind paste in stores. If it is not available, then you can prepare it at home by following directions given below.
Soak tamarind in hot water for 1 hour. Remove seeds of it and strain mixture to prepare tamarind pulp.
Clean mint leaves and coriander leaves using water.
Grind fresh coconut, green chilli, ginger, sugar and salt together in a mixer or food processor until smooth paste.
Add mint leaves, coriander leaves, tamarind pulp and 1/2 cup water; grind again until smooth consistency of chutney.
Pudina ki chutney is ready to serve.
Tips and Variations:
Replace tamarind pulp with lime juice for even more delicious tang of pudina chutney.
Store it in an airtight container in refrigerator for up to 3-4 days and use it whenever required.
Add more water and adjusting the spices accordingly to make it diluted and thin.
Taste:
Spicy and refreshing taste of coriander, pudina, coconut and tamarind.
Serving Ideas:
Serve it with vegetable samosa or aloo tikki as condiment. It can be used in any chaat for nice flavor. Serve it with any south Indian dish like dosa, idli and medu vada or use it as a bread spread for making vegetable sandwich.