Tamarind chutney (Imli chutney), a simple yet delicious condiment, is a must have dip for almost all Indian snacks. Even though this recipe is as simple as mixing jaggery and spices into tamarind puree, its tasty secret lies in use of black salt. The combination of jaggery and black salt provides a taste and flavor that no other ingredient can. It is best served with onion pakora and bhajiya (bhajji).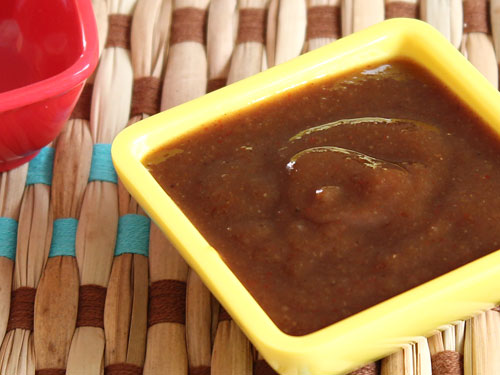 More Chutney Raita Recipes
Preparation Time:
10 minutes
Serves:
8 servings (1½ cup)
Ingredients:
1/2 cup Tamarind (Imli)
3/4 cup finely chopped Jaggery (Gur or Gud)
1 teaspoon Red Chili Powder
1 teaspoon Cumin Powder
1½ cups Water
1/4 teaspoon Black Salt (sanchal/kala namak)
Salt
Directions:
Deseed tamarind and boil it in 1½ cups water over low flame for 8-10 minutes. If you do not want to boil tamarind, then soak it in 1¼ cup hot water for 30 minutes.
Let it cool at room temperature. When it cools, prepare tamarind pulp by following any one of the two methods given below.



Mash tamarind in water and strain through a metal colander and discard fibers. Press mashed tamarind with spoon while straining to get more pulp out.
Crush boiled tamarind into puree using mixer-grinder, strain through fine sieve and discard any residues.

Transfer tamarind pulp to pan and add jaggery in it. Bring it to boil and cook on medium flame until jaggery dissolves completely.
Add red chilli powder, cumin powder, black salt and salt, mix well. Taste for sweetness and add more jaggery if you want to make sweeter chutney.
Turn off flame and allow it to cool at room temperature.
Transfer prepared sweet tamarind chutney to airtight container and store in refrigerator for up to one month for anytime use.
Tips and Variations:
You can find jaggery in any Indian/Asian store.
Change the quantity of jaggery according to your taste. More jaggery will give sweeter taste and less jaggery will give sour taste.
Replace jaggery with dates to make sweet tamarind chutney with dates or follow imli khajur chutney recipe to make ultra delicious chutney.
Mix 1/2 teaspoon garlic-green chilli-ginger paste to make it tastier.
Serving Ideas:
Indian snacks like rava dhokla, batata vada, aloo bonda, etc. tastes much better when accompanied by imli ki chutney. It is a must have ingredient for making delicious pani puri and bhel puri.