Apple Smoothie prepared with this recipe is an absolute bliss to taste buds. This kid friendly fresh fruit smoothie recipe is a simple blend of apple, milk, yogurt, almond and honey. The addition of cinnamon brings subtle but noticeable flavor that compliments the overall sweet taste.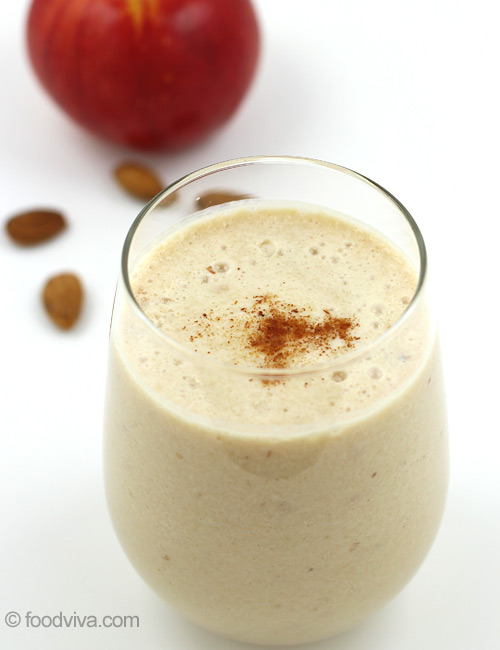 More Smoothie Recipes
Preparation Time:
10 minutes
Ingredients:
1 large Apple, peeled, cored and chopped
1/2 cup Milk
1/3 cup Vanilla Yogurt or Plain Yogurt
5 Almonds (or 1 tablespoon almond powder), optional
1 teaspoon Honey or Sugar
A dash of ground Cinnamon, optional
Directions:
Peel and cut apple into halves. Remove the core and cut apple into large pieces.

Add apple and almonds in a blender jar.

Add milk, yogurt and honey.

Blend until smooth and there are no chunks of fruit. Pour prepared smoothie into a chilled serving glass and sprinkle cinnamon over it. Drink it immediately for better taste because it will turn brown within half an hour.
Tips and Variations:
If you do not like the strong flavor of cinnamon, skip it.
Replace cinnamon with cardamom for nice flavor.
Taste:
Sweet and creamy taste of apple with mild touch of cinnamon.
Serving Ideas:
It is an ideal and stomach filling healthy drink that can be served in the breakfast. Indulge yourself in smooth and silky smoothie dessert for sweet and cool ending of meal.