This is a quick, easy and simple smoothie which not only has high values of nutrients but tastes exceptionally delicious as well. Learn how to make pumpkin smoothie with milk and yogurt with this recipe.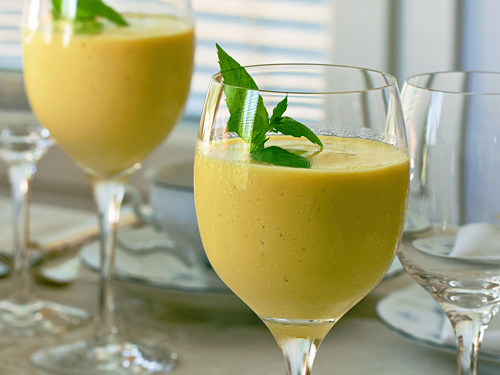 More Smoothie Recipes
Preparation Time:
10 minutes
Ingredients:
3/4 cup canned Pumpkin Puree
1 cup Almond Milk or Low Fat Milk
1/2 cup Yogurt (vanilla or plain)
4 pieces Ice Cubes
1/4 teaspoon Ground Cinnamon
1/8 teaspoon Nutmeg Powder
1 tablespoon Sugar
Directions:
Add pumpkin puree, ice cubes, sugar, ground cinnamon, nutmeg powder and vanilla yogurt in a blender jar.
Add milk and blend until mixture becomes smooth.
Check consistency of drink, if you do not like thick smoothie, then add more milk and blend to reduce its thickness.
Pour it in chilled serving glasses and serve.
Tips and Variations:
Place pumpkin puree in a freezer for 1 hour before blending all ingredients to make very chilled smoothie.
Taste:
Sweet taste of pumpkin with natural and spicy touch of pumpkin spice.
Serving Ideas:
This thick and creamy smoothie makes a delicious and filling liquid breakfast or an energy-boosting snack. Serve it to kids as energy rich drink.