Fruit smoothies are very healthy and full of nutritious elements and minerals. Peaches are a good source of dietary fiber and vitamins. Regular intake of peach in smoothie or any other way can help prevent cancers and make skin glow. Try this appealing and glamorous low fat strawberry peach smoothie with yogurt today and enjoy the fruity frozen dessert without worrying about extra calories.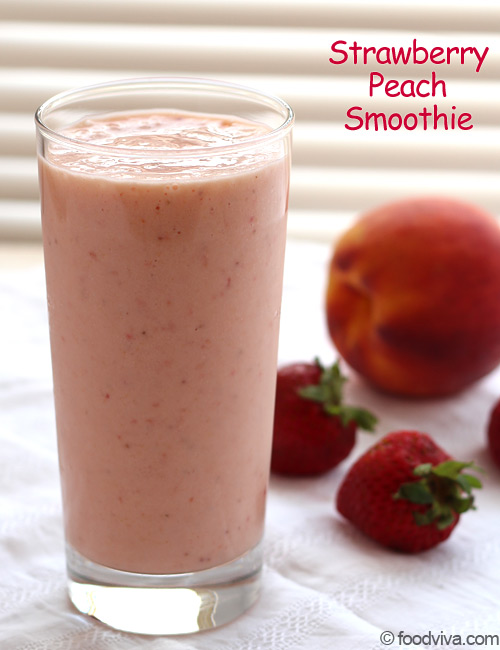 More Smoothie Recipes
Preparation Time:
10 minutes
Ingredients:
8 fresh or frozen Strawberries
1 fresh large Peach, peeled, pitted and chopped (approx. 1-cup)
1/2 cup Low Fat Vanilla Yogurt or Strawberry Yogurt
1/3 cup Milk
1 teaspoon Sugar (or to taste)
Directions:
Wash strawberries and remove stem. Peel, pit and chop the peach.

Add strawberry, peach, yogurt, milk and sugar in the jar of a blender or food processor.

Blend until smooth and there are no lumps of fruits. Pour prepared peach strawberry smoothie into serving glasses and serve.
Tips and Variations:
Do not use very sour strawberries or smoothie will turn sour.
We recommend to use donut peach as it is very sweet and juicy.
Taste:
This mild tangy and mild sweet peach drink has distinct zest of strawberry and peach as yogurt and milk does not hide fruit's flavors and taste.
Serving Ideas:
Serve strawberry peach smoothie as an afternoon beverage or as a healthy drink in breakfast. It is a good option for light and refreshing dessert too.