Aloo tikki can be used to make many varieties of snacks and chaats. This tongue tickling aloo tikki chaat recipe uses stuffed spicy tikki and other typical chaat ingredients like sev, chopped onions and assortment of chutneys to recreate the best Indian street food experience.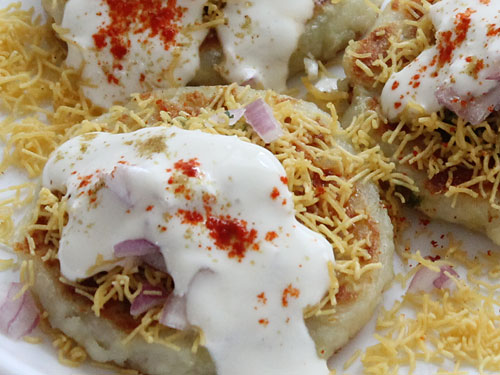 More Snacks Recipes
Preparation Time:
15 minutes
Ingredients For Tikki:
4 medium Potatoes, boiled, peeled and mashed
1 Green Chilli, deseeded and finely chopped
2 tablespoons Corn Flour
1 teaspoon Lemon Juice
Salt
Oil
Ingredients For Stuffing:
3 tablespoons Chana Dal (gram lentil)
1/2 teaspoon Dry Mango Powder (amchur)
1/4 teaspoon Garam Masala Powder
1/2 teaspoon Red Chilli Powder
Salt
Ingredients For Serving:
1/4 cup Green Chutney
2 tablespoons Garlic Chutney
1/2 cup Date-Tamarind Chutney (sweet chutney)
1/2 cup Sev
1/2 cup finely chopped Onion
1/2 cup Curd (yogurt), beaten
Red Chilli Powder, for garnishing
Chaat Masala Powder, for garnishing
Directions for Tikki and Stuffing:
Soak chana dal in water for 2 hours. Drain water and transfer it to a small or medium size pressure cooker. Add salt and 3/4 cup water and pressure-cook it for 2 whistles over medium flame. Based on the size of a pressure cooker, you may need to cook for longer or lesser time. Do not over cook the chana dal.

Open the lid of cooker and transfer cooked chana dal to a colander to remove excess water. Cooked chana dal should be whole and separated from each other. Let it cool for 10 minutes.

Prepare filling for tikkis by mixing cooked chana dal, dry mango powder, garam masala powder and red chilli powder in a bowl.

Take mashed potatoes in a large bowl. Add chopped green chilli, corn flour, lemon juice and salt and mix well.

Divide prepared mixture into 12 equal portions. Give each portion a round shape of ball and press a little to make 1/3 inch thick pattie. Put 1-2 teaspoons filling in the center of pattie.

Wrap filling from all sides and make round ball. Again press a little and flatten stuffed ball into pattie. Repeat the process for remaining portions.

Heat a non-stick frying pan (tawa) over medium flame. Drizzle 1-2 teaspoons oil over it. Put 5-6 tikkis over it and cook until bottom surface turns golden brown, approx. 2-3 minutes.

Turn it up side down, drizzle some oil around its circular edge and cook another side for 2-3 minutes until it turns golden brown.

Transfer it to a plate. Repeat steps 7 and 8 for remaining tikkis. Stuffed aloo tikkis for chaats are ready.
Directions for Aloo Tikki Chaat:
Make all chutneys by following their recipes. Mix some water to lasun chutney to dilute it. Take 2-3 aloo tikkis in a serving plate.

Top each tikki with 1 teaspoon green chutney, 2 teaspoons date-tamarind chutney and 1/2 teaspoon garlic chutney.

Sprinkle onion and sev over it followed by 2 teaspoons beaten curd. Sprinkle red chilli powder and chaat masala powder over it. Prepare remaining serving plates and serve immediately. Do not keep chaat idle for a long time after assembling it.
Tips and Variations:
Assemble chaat only when you are ready for serving. It will turn soggy if not consumed immediately.
Tikkis should be hot at the time of serving. If they have become cold, then reheat them on tava over low flame for 1 minute and then assemble the chaat.
Use 2 tablespoons breadcrumbs if corn flour is not available.
Make sure that tawa is hot enough to cook tikkis. If it is not hot enough and flame intensity is not right, then tikki will take more time to get brown.
Taste:
A perfect and delectable combination of spicy, tangy, sweet and savory taste.
Serving Ideas:
Serve it as an afternoon snack or party snack.