Mambazha Pulissery Recipe
It is a delicious curd based mango curry prepared using ripe mangoes, curd, basic cooking spices and fresh coconut and has a mild tangy, sweet and spicy taste. This authentic Keralian side dish is best enjoyed with plain steamed rice. Follow this easy recipe of Mambazha Pulissery to make it at home in less than 20 minutes.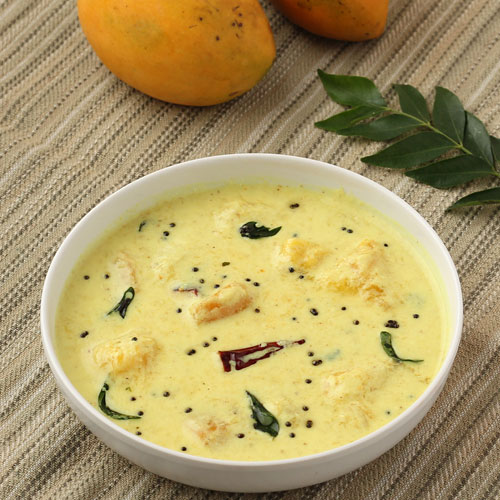 More Kerala Recipes
Preparation Time:
5 minutes
Ingredients:
1 cup peeled and chopped Ripe Mango
1/4 cup grated Fresh Coconut
1/2 teaspoon Cumin Seeds
1 Green Chilli, chopped
1/4 teaspoon Turmeric Powder
1/2 teaspoon Red Chilli Powder
3/4 cup thick beaten Curd (yogurt)
1/4 teaspoon Mustard Seeds
5-6 Curry Leaves
1 Dry Red Chilli, halved
1/2 tablespoon Coconut Oil
Salt to taste
Directions:
Grind grated fresh coconut, cumin seeds and green chillies with approx. 2-tablespoons water in a grinder until smooth paste.
Add chopped mango, turmeric powder, red chilli powder and 3-4 tablespoons water in a saucepan. Cook mango pieces over medium flame until they are half cooked or for approx. 2-3 minutes. If required, add more water but do not make it too watery. Cook until mango pieces are tender but not mushy.
Add ground paste (prepared in step-1) and salt. Mix well and cook for 2-3 minutes.
Add beaten curd, mix well and cook for a minute. Turn off flame.
Heat coconut oil in a small pan over medium flame for tempering. Add mustard seeds and let them crackle. Add asafoetida, curry leaves and dry red chillies and sauté for 30 seconds. Remove pan from flame and pour it over cooked mango-curd mixture.
Mambazha pulissery is ready.
Tips and Variations:
Do not cook for a longer time after adding curd as it may curdle.
Use sour curd in this recipe to get sweet and sour taste.
Replace mango pieces with different types of vegetables and fruits such as cucumber, pineapple, apple, etc., to prepare varieties of pulissery in this method.
Serving Ideas:
 Serve it hot with steamed cooked rice.