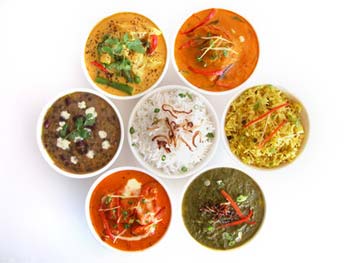 Kerala food has its own customized version of famous south Indian sweet, payasam. The paal payasam is a kerala style sweet made using broken rice, ghee, milk, sugar and its locally grown spice, cardamom. The uniqueness of this recipe is that it uses pressure cooker to cook and soften the rice. The use of pressure cooker not only speeds up the cooking process but it also helps retain all goodness of rice.
More Kerala Recipes
Preparation Time:
5 minutes
Ingredients:
1/2 cup Broken Rice
1 tablespoon Ghee
1 liter Milk
1/3 cup Sugar (or to taste)
1/4 teaspoon Cardamom Powder (Elaichi Powder)
2 tablespoons chopped Cashew Nuts, optional
1½ tablespoons Raisins, optional
Directions:
Heat ghee in a pressure cooker pan (use small size pressure cooker). Shallow fry cashew nuts and raisins separately and transfer them to a plate.
Add broken rice in same ghee and roast for 2-3 minutes on medium flame.
Add milk and stir well. Close lid of a cooker and cook on medium flame until 1st whistle. After 1st whistle, reduce flame to low and cook for 10 minutes.
Turn off flame and let pressure come down. It will take around 8-10 minutes.
Open lid, add sugar and mix well. Again, put pressure cooker on a stove and cook on low flame for around 7-10 minutes or until you get the desired consistency of a payasam. Stir continuously to avoid sticking of rice at the bottom.
When mixture reaches your desired consistency (semi liquid or thick) add cardamom powder and stir to mix well. Turn off flame and transfer it to a serving bowl.
Garnish paal payasam with roasted cashew nuts and raisins and serve warm or cold.
Tips and Variations:
You can add more milk in step-5 if you want more liquid consistency of a payasam.
You can also cook milk and rice in a pan (until rice is soft) without using pressure cooker but it will take more time to cook (step-3).
Broken rice gives thick and creamy texture. You can also use any other short grain rice instead of it.
Serving Ideas:
Serve it as a rich and traditional dessert on Onam.