Potato Coconut Curry Recipe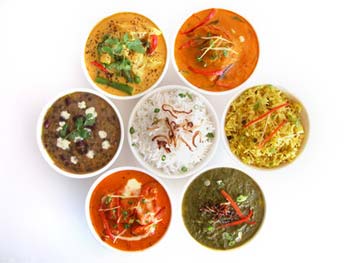 Learn how to make delicious Potato curry with coconut milk with this easy potato coconut curry recipe.
Preparation Time:
20 minutes
Ingredients:
2/3 cup Coconut Milk
2 cups Potatoes, boiled, peeled and cubed
1/2 cup Cherry Tomatoes or Regular Tomato wedges
1 medium Onion, chopped
1/2 teaspoon Cumin Seeds
2 Dry Red Chillies, broken into two pieces
1/4 cup Cashew Nuts
2 Bay Leaves
1/2 teaspoon Red Chilli Powder
1/4 teaspoon Turmeric Powder
1/2 teaspoon Garam Masala Powder
1 tablespoons Cooking Oil
1 teaspoon Coriander Powder
1 tablespoon Fresh Coriander Leaves, chopped
Salt
Water
Directions:
Soak cashew nuts in water for 20 minutes and grind them with 3 tablespoons water and make a paste.
Heat oil in a non-stick pan or kadai. Add cumin seeds, dry red chilli and bay leaves in it. When seeds begin to splutter, add chopped onion. Sauté until onion turns light brown.
Add a cashew nut paste and stir it.
Add turmeric powder, red chilli powder, coriander powder, garam masala and cherry tomatoes. Mix well and cook for approx 2 minutes on low heat.
Add boiled potatoes and mix with all ingredients.
Add coconut milk and salt. Cook over low heat until gravy becomes thick (approx 4-5 minutes).
Transfer potato coconut curry to a serving bowl, garnish with chopped coriander leaves and serve.
Tips and Variations:
Use baby potatoes for visual variation.