Masala Chai (Masala Tea) is an ultimate Indian spiced tea prepared with milk, tea powder, sugar, water and tea masala (special blend of Indian spices made for mixing with tea). It is a widely accepted social drink for all types of meetings and gatherings in India and Indian sub continent. The key ingredients which separates it from milk tea is powder prepared from cardamom, cinnamon and clove.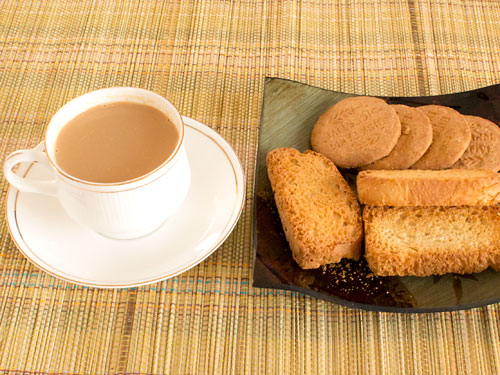 More Tea Recipes
Preparation Time:
2 minutes
Ingredients:
2 cups Milk
1/2″ Ginger piece, grated
1 Cardamom
1 Clove
1/2 Cinnamon stick
2 teaspoons Tea Powder (chai patti)
1/4 cup Water
3 teaspoons Sugar
Directions:
Crush cardamom, cinnamon and clove using mortar and pestle or grinder to a medium coarse powder. You can also use the dry tea masala powder instead of using this crushed powder.
Boil water, tea powder, grated ginger, crushed masala powder and sugar over medium flame in a pan for 3-4 minutes.
Add milk and boil for 5-6 minutes or until the bubble starts to rise. You will notice the change in color of the tea from milky shade to brown shade when it is ready.
Turn off flame and strain masala chai through tea strainer in cups.
Tips and Variations:
If you like a strong tea, then add more tea powder and boil it for longer duration.
Taste:
Sweet with aroma of spices
Serving Ideas:
Serve it with biscuit or dry snacks. It is good healthy drink during any time of the day.