Lemon pudding, a quick and healthy delight for dessert, is a "make it anytime" pudding. One can prepare this lemon flavored dessert in minutes by using basic ingredients available in all households at all the time. The ease of preparation and heavenly sweet and tart taste of this pudding makes it an ideal sweet dish to prepare when in a hurry. Learn this recipe and give delightful treat to your friends and family in Christmas and Thanksgiving get-togethers.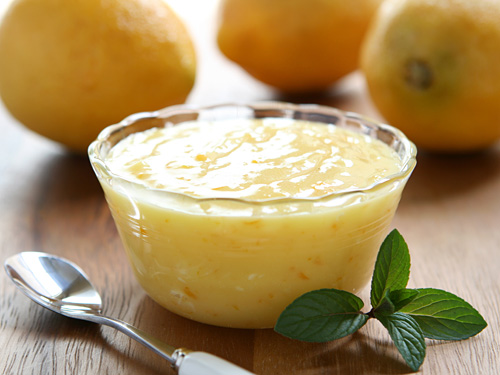 Cooking Time:
2 Hrs 20 min
Ingredients:
3 tablespoons Lemon Juice
2 teaspoons grated Lemon Peel
1/3 cup Sugar
2 tablespoons Cornstarch
1 tablespoon Unsalted Butter, melted
1 large Egg Yolk, lightly beaten
1 cup Milk
1/8 teaspoon Salt
Directions:
Whisk together cornstarch and sugar in a medium size saucepan. Add milk in small quantities while whisking constantly. Whisk it until it's smooth and there are no bubbles and lumps.
Add beaten egg yolk, grated lemon peel and salt and stir well.
Put saucepan on stove top and cook on medium heat until it is thick and starts to coat back of the spoon. Stir constantly to avoid any lumps and prevent sticking. (See tip below.)
Remove saucepan from heat and stir in butter and lemon juice.
Strain if necessary and pour into 2 individual serving dishes or 1 large bowl.
Let it cool at room temperature.
You can either serve it at room temperature or cover it with a plastic wrap and put in a refrigerator for approx 2 hours to set and chill.
Chilled lemon pudding is ready for serving.
Tips and Variations:
Every individual has its own preference and liking to various taste and flavors. You can always adjust quantity of sugar and lemon juice according to your preference to get desired taste.
It is recommended to use freshly squeezed lemon juice for nice aromatic citrus flavor.
Do not add all milk at one go in step-1. This will result in lumps formation due to extra fine texture of cornstarch. Slowly add milk from side of the pan to avoid lumps formation and keep stirring while adding it.
To verify if heated mixture is ready or not, take a help of simple technique. Dip an empty spoon in hot pudding mixture and take it out. Check and verify that back of the spoon is covered evenly. If it is not, then stir thoroughly and try again until it covers spoon well with consistency.
Taste:
The smooth and silky textured pudding has heavenly combination of sweet and mild tart taste with invigorating aroma of fresh lemon making it difficult to resist after one serving.
Serving Ideas:
The sweet and sour taste of lemony pudding makes it ideal dish to serve as a dessert for Christmas dinner parties or any other occasion. It's an ideal dish to satisfy one's sweet cravings at any time of the day. Whirl up this sweet and healthy dessert when kids demand something quick and sweet.