Want to have something refreshing, delicious and healthy to beat the heat in summer? Then look no further! Watermelon smoothie, a perfectly balanced blend of sweet and low calorie watermelon, fresh and juicy strawberries and tantalizing fresh lime juice, is a treat to taste buds.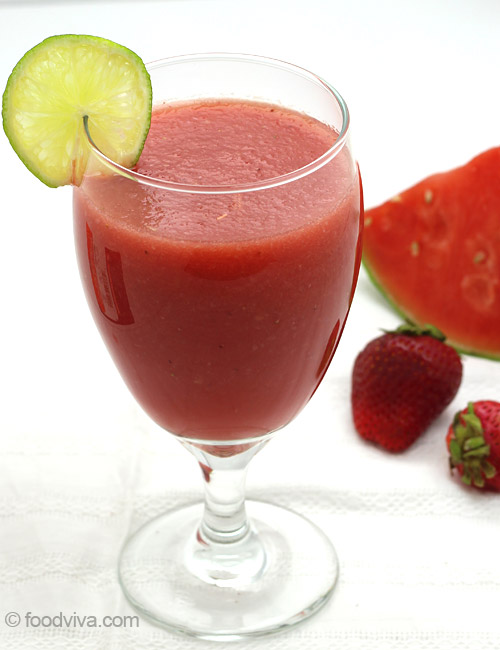 More Smoothie Recipes
Preparation Time:
10 minutes
Ingredients:
2 cups Fresh Watermelon Chunks
5 fresh or frozen Strawberries
2 Ice Cubes
1/2 Lime or Lemon
Directions:
Cut watermelon into large pieces and remove black seeds, no need to remove the white seeds. Cut strawberries into halves.

Add watermelon pieces, strawberries and ice cubes in a blender jar. Squeeze the lemon over it.

Blend until smooth and slushy. Pour prepared drink into serving glasses and serve with a straw.
Taste:
Watermelons are sweet while strawberries are tangy. This smoothie has a mind-blowing combination of sweet, tangy and sour taste with fresh strawberry and lime fragrance.
Serving Ideas:
It is simply delightful and mood refreshing drink during hot summer. Serve sugarless smoothie as a low calorie healthy drink if you are on a healthy and low-calorie diet.