Pina Colada Smoothie Recipe
Pina colada! The name itself brings lively and vivid images of bright and sunny beach side in mind. In this recipe, coconut milk and pineapple juice are mixed with banana and yogurt to makes an equally tasty and refreshing non-alcoholic pina colada drink.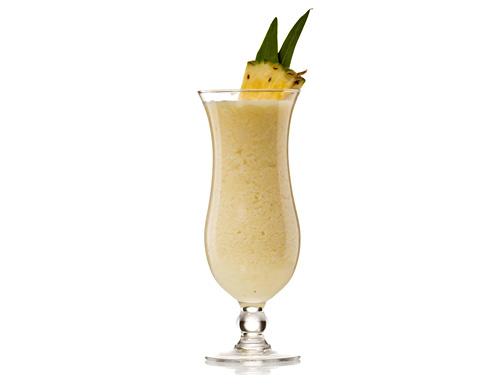 More Smoothie Recipes
Preparation Time:
10 minutes
Ingredients:
1/2 cup Coconut Meat
1/4 cup Coconut Water
1 Frozen Banana, peeled and sliced
1/2 cup fresh or frozen Pineapple Chunks
1/2 cup Pineapple Juice
1/2 cup Vanilla Yogurt
1/2 cup Crushed Ice
2 Pineapple Slices
Directions:
Place coconut meat, coconut water, frozen banana, pineapple chunks, pineapple juice, vanilla yogurt and crushed ice in a blender and blend until smooth and creamy puree.
Pour it in chilled serving glasses. Cut pineapple slices till halfway, place them on each glass' rim as garnish and serve.
Tips and Variations:
Use ready-made pina colada drink mix instead of pineapple juice and coconut milk to make this tropical smoothie instantly.
Taste:
This refreshing and tropical non-alcohol drink tastes as good as its alcoholic counterpart.
Serving Ideas:
Serve it as non-alcoholic beverage during beach side or pool side parties where alcoholic drinks are not suitable for the occasion you are celebrating.