Chocolate Mousse, this mousse recipe is eggless and has only 2 ingredients – chocolate and heavy cream. The making process is also very simple and hardly takes 15-20 minutes + 2 hours chilling time. Everyone loves chocolate and this creamy chocolate dessert can be prepared in advance (a day ahead) so it's perfect to serve in the party. Follow the below given recipe and don't forget to read the tips before making this mousse.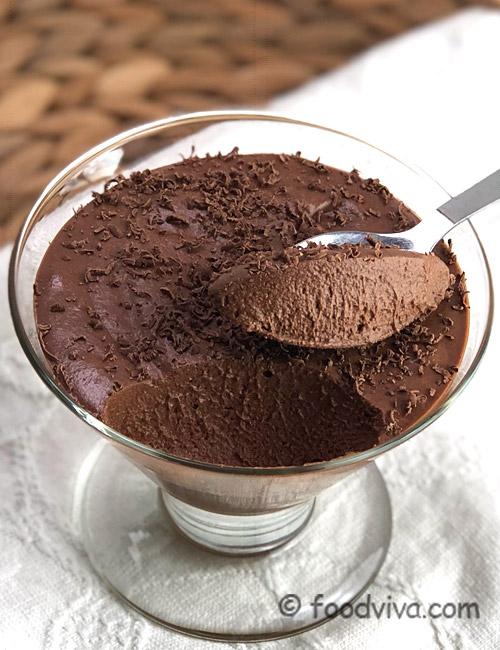 Eggless Chocolate Mousse Video
More Dessert Recipes
Preparation Time:
15 minutes + 2 hours chilling time
Ingredients:
100 gm Semi Sweet Chocolate (or Choco Chips)
200 ml Fresh Cream (Heavy Whipping Cream) (3/4 cup + 1 tablespoon)
Directions:
In this recipe, we have used Hershey's dark chocolate (semi sweet chocolate). You can use any brand's dark chocolate for this recipe.

Melt the Chocolate – Cut chocolate into small pieces and transfer to a bowl.

Add 50-60 ml heavy whipping cream (1/4 cup) to it.

Melt the chocolate using double boiler method. Heat approx. 1 cup water in a large pot and simmer it over low flame. Keep the chocolate and cream filled bowl on the top of it. Make sure that the water is not touching the top bowl.

Stir the chocolate using a spatula or a spoon to melt it evenly.

Once the chocolate is melted completely, let it cool down for 10 min. at room temperature.

Take remaining 150 ml heavy cream (1/2 cup + 1 tablespoon) in another bowl. Make sure that the cream is chilled (NOT at room temperature).

Whisk it using electric beater until the soft peaks form.

Add half of the cooled melted chocolate to the cream.

Whisk until all mixed well. Add remaining chocolate.

Whisk again until all mixed well and medium or hard peaks form.

Creamy Chocolate Mousse is ready. Transfer mousse to a glass or a bowl by either using a spoon or a piping bag.

Serve it immediately or chill it for 2-3 hours in the refrigerator. Decorate it with grated chocolate or shaved chocolate or whipped cream.

Enjoy.
Tips and Variations:
The taste of the mousse depends on the taste of the chocolate so use good quality chocolate.
Don't use microwave or direct heat the chocolate filled bowl on the gas stove to melt the chocolate.
Make sure that the cream is chilled to whisk it fast and easily.
Taste:
 Creamy and chocolaty
Serving Ideas:
 Serve chocolate mousse as a dessert after dinner or enjoy it anytime.