Baked Rice Pudding Recipe
Baked Rice Pudding is a dry and solid variation of the normal wet and creamy pudding. This backed variation is popular in southern states and is also known as old fashioned rice pudding. As name suggests, this recipe involves use of oven for baking. The baking process helps it develop wonderful custard and transforms it into a rich and comforting dessert.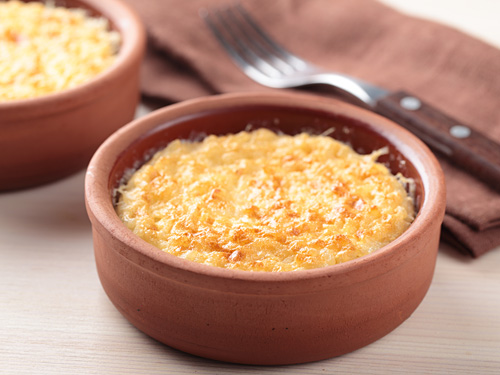 Preparation Time:
15 minutes
Ingredients:
1½ cups Cooked Rice (medium grain rice)
2½ cups Milk
1/2 cup White Sugar
Egg yolks of 3 large eggs, beaten
1/2 teaspoon Ground Cinnamon
1/2 teaspoon Vanilla Extract
3 tablespoons Raisins
Butter for greasing
a pinch of Salt
Directions:
Preheat oven to 325 degrees F (165 degrees C).
Stir together milk, beaten egg yolks, sugar, vanilla extract and salt in a large bowl. Add cooked rice and raisins and stir to mix well.
Grease 8x8x2 inch square baking dish with butter and pour prepared mixture in it.
Place it in oven and bake until light brown in color or for around 1 hour. Stir it once (after 30 minutes) in between. After one hour, verify if it's cooked properly or not by inserting the toothpick or knife and quickly taking it out. If it comes out clean, it means that pudding has cooked properly now. If toothpick or knife does not come out clean, then let it cook for 5 more minutes and check again.
Take it out from oven and sprinkle ground cinnamon over it. Let it cool for 10 minutes at room temperature.
Serve baked rice pudding warm or cold as you like.
Tips and Variations:
Add ground nutmeg or ground cardamom as per taste in step 2 for variation in taste and aroma.
Do not use long grain rice because pudding texture will change when it is cooked.
Garnish it with cream and milk before serving.
Serving Ideas:
It can be served as dessert or as a side sweet dish with meal. Many people like to have it in a breakfast as well.