It is a popular punjabi flat bread made from corn flour and generally served with
sarson da saag
. Makki is a Punjabi word for maize (corn) and a yellow flour made from it is the base ingredient for this recipe. Traditionally make ki roti is prepared by flattening a dough ball into round shape by repeatedly pressing it in-between palms in a thumping motion and then baked on hot tawa. However, this traditional method is difficult and requires some practice, so this step by step photo recipe uses easier rolling pin method. However, This unleavened Indian style bread is not easy to roll as maize flour contains very less amount of gluten and sticks a lot. To overcome this problem, a plastic sheet technique is used that allows you to roll it easily. In addition to this technique, this makki ki roti recipe uses coriander leaves and carom seeds which add nice flavory touch to its crisp texture.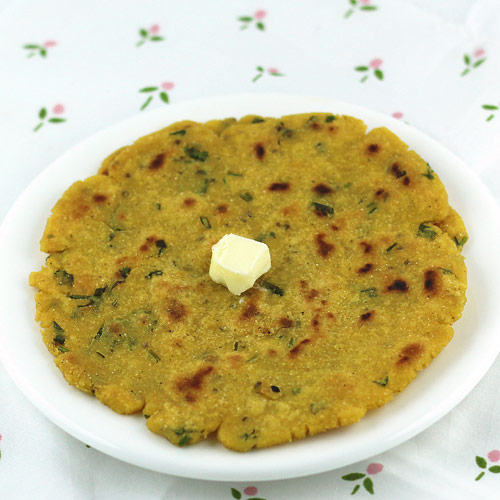 More Punjabi Recipes
Preparation Time:
5 minutes
Serves:
2 servings (6 roti)
Ingredients:
1½ cups Makai Atta (maize flour/corn meal/corn flour (yellow one))
2 tablespoons finely chopped Coriander Leaves or grated Radish
1 teaspoon Carom Seeds (ajwain)
Warm Water as needed to bind the dough
Salt to taste
Oil or Ghee, for shallow frying
Note:
Makai Atta (makki ka aata or corn flour) is made by grounding corn kernels into fine powder and it has yellow color. Do not use the corn meal which has a grainy texture like semolina. Also, do not use white corn flour which is similar to starch and generally used for thickening the soup and gravy.
Directions:
Sieve the maize flour in a large bowl.

Add finely chopped coriander leaves, carom seeds, and salt. Add warm water little by little and knead a little stiff and smooth dough (like paratha dough).

Divide it into 6 equal portions. Wet your palms with few drops of water and make round shaped balls from each portion. Take a plastic ziplock bag and cut it from two sides. Place the bag over a rolling board and put one ball over it. Simultaneously, start heating the tawa over medium flame.

Press the dough ball a little with your palms and flatten it. Cover it with a side of the plastic bag and gently roll it out into medium thick round shaped roti.

Remove plastic from the upper side and gently transfer the rolled roti over your palm by turning it upside down as shown in the photo.

Now easily remove the plastic from the top as if you are peeling it.

Place the rolled roti over heated tawa and cook it for a minute.

Flip it with a spatula and spread few drops of oil over it.

Again, flip it after about a minute and spread oil over upper side. Flip and cook until light brown spots appear on both sides.

Transfer it to a plate and spread butter over it. Serve it immediately with

sarson da saag

. Makki di roti turns chewy once it cools down, so serve it hot.
Tips and Variations:
Add shredded radish and chopped green chilli while kneading the dough for variation.
Be gentle while taking the roti over your palm as it may tear.
Do not make the large roti as the rolled dough could easily break and it is difficult to handle after that.
Use ghee to roast the roti to get authentic flavor.
Serving Ideas:
 Serve makki ki roti with
sarson ka saag
or
saag paneer
and a glass of lassi in dinner. It can also be served with tea in the breakfast.