Banana juice is a sweet and creamy combination of ripe banana, apple, honey and milk (or water). The honey brings its subtle flavor that compliments the smoothness of banana while milk brings down its excess thickness, making its more savory.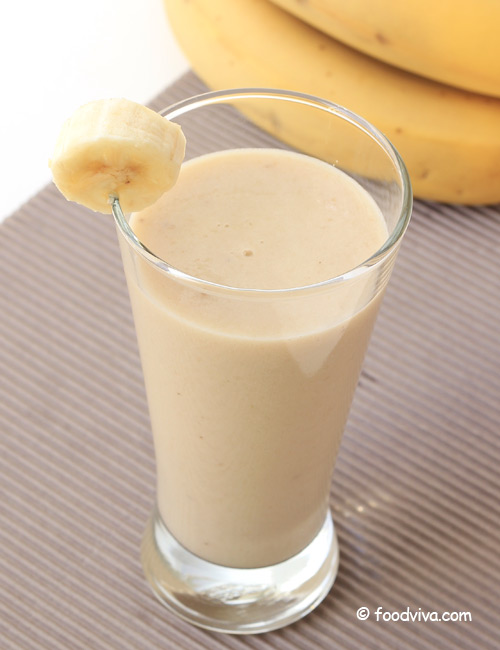 Preparation Time:
10 minutes
Ingredients:
2 large Bananas, sliced
1/2 Apple, cored and chopped
1 tablespoon Honey
1½ cups Milk or Water (milk is preferable)
Directions:
Wash the bananas and apple, and pat dry them.

Peel the bananas and cut into slices. Peel and cut apple into halves. Take one portion and cut into medium pieces, keep another half for other use.

Add banana chunks, apple pieces and honey in a blender jar.

Add milk. (Use milk for better taste or use water to make it a low calorie juice).

Blend all ingredients together until smooth puree.

Check the consistency, if you feel that its too thick, then add more milk to dilute it and blend it again for 5 seconds. Pour it into serving glasses, garnish with a banana wheel and serve.
Tips and Variations:
Consume it immediately otherwise its taste changes and turns darker in color.
Do not use juicers to make it because banana contains very less amount of water compare to other fruits and it would clog the juicer.
Change the quantity of honey to sweeten it as per your taste.
Add pineapple juice in place of milk for variation.
Replace apple with carrot to make even healthier banana fruit juice.
Taste:
Sweet and creamy taste of banana with apple and milk.
Serving Ideas:
Make your breakfast tastier and healthier with it. Since it packs goodness of fruits and does not use sugar, it can be given to 1 year or older babies and kids too.
---
21 Comments
---
Oct 25, 2017 by Frank Takyi
Very impressed. Your site is very good.

---
Oct 12, 2017 by Desire
Can a one year old drink this?

Response: Yes, one year old can drink this.
---
Jun 06, 2017 by Mohamad Danish
How much banana to use if the banana is small?

Response: You can use 3 small bananas instead of 2 large bananas in this recipe.
---
Jun 03, 2017 by riyasrosy
Appetizing & Exquisite Drink ever... Bon Appétit...

---
May 21, 2017 by karthik abhishek
It's good but too much fat for daily consumption.

---
Feb 01, 2017 by Genevieve
is it okay instead of honey i used condensed milk? I don't have honey.

Response: No, you cannot use condensed milk instead of honey.
---
Jun 24, 2016 by Yara
I love this because it is so easy to make and will taste great.

---
Jun 23, 2016 by Tarie
Include the measurements of the cup please.

Response: In all the recipes 250 ml cup is used to measure all the ingredients. For further cup measurements, follow this Cooking Measurements and Conversions link.
---
May 15, 2016 by Lok Yiu
Awesome, delicious and healthy, good for my diet.

---
May 14, 2016 by Calibratto
Just at a bit of alcohol white spirit and keep in fridge not freezer.
Yogurt in place of milk will also help but not for 48hrs.

---
Nov 30, 2015 by Austin
Wow......... I just made it from your directive, so creamy and lovely taste. Thanks....Austin from Igarra ,Edo state.

---
Nov 05, 2015 by Abdul Qadeer Buriro
It was yummy and testy. It was very easy to make. I liked it. Thanks for directions.

---
Oct 14, 2015 by Peter Koome
It was so sweet...I just enjoyed the drink.

---
May 05, 2015 by Vinay
It's awesome, tasty and healthy, also easy to prepare.

---
Apr 27, 2015 by Jennifer Antwi
This juice is very delicious and healthy too.

---
Nov 27, 2014 by Mathapelo
Yummy. Fresh, tasty and healthy drinks.

---
Oct 03, 2014 by gopika
it was very tasty and sweet. I like it very much. thanks a lot

---
Sep 09, 2014 by ebroye
wow it has very good direction to make banana juice at home! Thanks a lot

---
Jul 07, 2014 by Akshay
Too delicious !!! Recommended for Diet freak people too!!

---
Jun 18, 2014 by IVAN JOHOSHAPHAT
How can i make banana juice that can last for a minimum of 48hrs

Response: Hi Ivan, banana juice will turn brown after sometime whether you keep it in refrigerator or at room temperature so consume it fresh. I have no idea about preserving banana juice for longer time.
---
May 01, 2013 by ravishankar
very nice and very easy to make

---