It's hard to find anyone who doesn't like to enjoy chaat! Dahi Puri Chaat is yet another member of popular Indian street chaats that is made by stuffing crispy puffed puris with boiled potatoes and topping it with a combination of sweet, sour and spicy chutneys, onion, sev and beaten curd (dahi) giving it a perfectly balanced tongue tickling taste. It is perfectly suited as a party-snack as it can be easily prepared in large quantities, ingredients can be prepared in advance, just needs assembling at the time of serving and guests can customize it to their taste. This step by step photo recipe of Dahi Puri explains how easy it is to make it at home.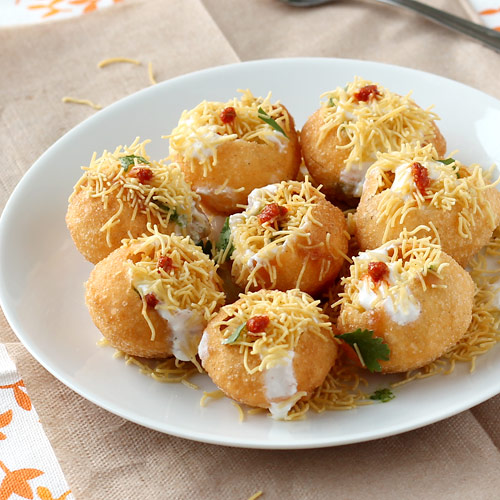 Preparation Time:
20 minutes
Directions:
Gently make a hole on the top side of each golgappa puri by cracking it in the center with a spoon or index finger. Take one serving plate and arrange them on it.

Fill each puri with 1-tablespoon potato and 1/2 tablespoon onion.

Drizzle 1-teaspoon date tamarind chutney over potato.

Drizzle 1/2 teaspoon green chutney over it.

Drizzle 1/4 teaspoon garlic chutney over it.

Pour 1-tablespoon curd over each puri.

Sprinkle

Sev

over it and garnish with coriander leaves. Dahi Puri Chaat is ready for serving. Serve it immediately.
Tips and Variations:
Feel free to adjust the amount of all chutneys and curd to get your desired taste.
Add sprouted moong beans or boiled black chickpeas for variation.
Prepare chutneys in advance and store in a refrigerator.
Taste:
Crispy puri with tongue tickling sweet, spicy and mild sour taste
Serving Ideas:
Serve it as evening snack or as party snack in the kitty party.
Other Step by Step Recipes
---
10 Comments
---
Jul 27, 2017 by shravya
Awesome chat... :*
loved it :)

---
Jul 04, 2017 by Charles
Can I just confirm, the onion is raw, uncooked when added? Thanks.

Response: Yes Charles, raw onion is added. If you don't like it, you can just skip it.
---
Aug 31, 2016 by Syam
Awesome and easy and interesting recipes. Thank you sooo...much.

---
Feb 02, 2016 by Akansha
Dahi Puri has always been one of my favourite snacks! Especially on a hot summer's day, this bite sized snack has always been welcomed at home. Gowardhan dahi provided me with the perfect flavours for this snack while at the same time helping ensure that I took care of my health. I can still indulge in my favourite dahi puri without adding tires around my waist haha!

---
Jan 25, 2016 by Asmita
Thanks for the recipe. It helped a lot and I have to ask you to try beating the curd with sugar and seasoning it with chaat masala, trust me it tastes so good.

Response: Thank you Asmita for trying the recipe and sharing the info. I will definitely try it.
---
Sep 27, 2015 by Fatema Taha
The recipes are amazing. Truly delicious with simple process and all ingredients are available. I want a recipe for flat puri that goes with papdi chat. Thanks.

---
Sep 06, 2015 by D.RAJ KUMARI
you have given me a bundle of tips thanks for that
please continue this to help many people

---
Aug 25, 2015 by Jinisha
Awesome recipe n easy

---
Jun 20, 2015 by Benoy Paul
Thank you for your recipe. It helped me a lot. Now, I am going to kitchen for making GOLGAPPA...

---
Apr 06, 2015 by Shaiban
I really enjoyed eating it. It was an awesome dish and it's very easy. I would like to ask you to put more dishes like this so, we can eat delicious food like this.

---