Chakli, a spiral shaped crisp deep fried snack, is one of the traditional Indian snack item enjoyed during festivals like Diwali. This snack is known with different names in different parts of India and prepared with different base ingredients. It is known as Chakri in Gujarat, Chakli in Maharashtra and Northern India and prepared with Wheat flour. In Southern states of India it is prepared with rice flour and known as Murukku. This recipe explains how to make Chakli from whole wheat flour with step by step photos. To make crisp yet melt in mouth Chakli, whole wheat flour is first steam cooked and then mixed with sesame seeds, green-chilli-ginger paste, spices and curd into dough. Raw chaklis are made from its dough by using a Chakli Maker and then they are deep fried in hot oil until light brown.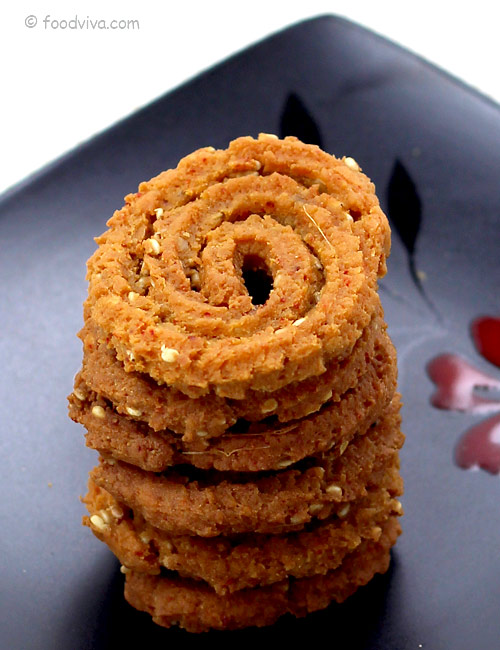 Preparation Time:
40 minutes
Ingredients:
1 cup Whole Wheat Flour (chapati atta)
1 tablespoon Ginger-Green Chilli Paste
1 tablespoon Sesame Seeds (til)
1 teaspoon Red Chilli Powder
1/4 teaspoon Turmeric Powder
3/4 cup (or as needed) Curd or Yogurt
1½ tablespoons Oil + for deep frying
Salt to taste
Directions:
Transfer whole wheat flour into a small container with lid which can easily fit into the pressure cooker and close the lid. Take a 3-liter capacity steel/aluminum pressure cooker. Pour 2 cups water in it and place a metal stand. Place the container filled with flour over the metal stand.

Close the pressure cooker and steam it for about 15-18 minutes over medium flame (or for 4-5 whistles). Turn off the flame and let it cool for 5-7 minutes.

Open the pressure cooker lid and remove the container carefully (use cotton napkin or oven gloves). Open the lid of a container.

Transfer steamed wheat flour to a large wide mouthed bowl. As you can see in the photo the flour would turn hard during steam cooking.

Break it with the pestle into powder.

Sieve it and discard all small and large lumps.

Add ginger-green chilli paste, sesame seeds, red chilli powder, turmeric powder, 1/2 cup curd, oil and salt.

Mix well.

Bind hard (firm) dough. If required, add remaining 1/4 cup curd (as needed) to bind the dough. The quantity of curd required to bind the dough depends on the quality of flour.

Take a Chakli/Sev Maker machine and chakli mould (a round disc having star shaped hole in the center). Grease the inside wall of chakli machine and chakli mould with oil.

 Place chakli mould in the machine, fill it with the dough and close the lid. The machine is now ready to make chaklis. Grease plate/aluminum foil or use butter paper to make spirals. Prepare raw chaklis by moving the machine in spiral motion with one hand while twisting the handle of machine with another hand. Make as small or as large spirals as you like. If you find it difficult to move the machine in spiral motion while twisting the handle, first make straight strings of dough by twisting the handle and then form chaklis by twisting it manually from inside to outside.

Heat oil over medium flame. Check whether oil is hot enough or not by dropping a small portion of dough into the hot oil. If it immediately comes to the surface without changing the color, oil is ready. If it turns brown, oil is too hot. If it doesn't immediately come to the surface, oil is not hot enough. When oil is ready, add 4-5 chaklis (depending on the size of a pan) and deep fry them until crispy and golden brown. Flip the chaklis 2-3 times in between for even frying. Remove them using a slotted spoon and transfer to a plate lined with paper towel.

Wheat flour chaklis are ready. Let them cool to room temperature. Enjoy them immediately or store in an airtight container and consume within 20 days.
Tips and Variations:
Don't skip steam cooking the wheat flour. This process makes chakli crispy yet melt in mouth.
You can find Chakli/Sev Maker machine in any utensils shop. It comes with various types of moulds to make different types of snacks like tikha gathiya, sev, etc.
Don't skip adding sesame seeds and ginger-green chilli paste. It makes chaklis taste delicious.
Taste:
 Crispy, mild spicy with sesame seeds flavor.
Serving Ideas:
Savor chakli on its own or with a cup of tea or other snacks and sweets like
nankhatai
,
almond cookies
during the Diwali festival.
Other Step by Step Recipes
---
6 Comments
---
Feb 02, 2018 by Navya
I need more wheat snacks (hot) .. which can be stayed atleast 20 days...Ur recepies r good.. I am a good follower of Ur site... I love to try Ur recepies...thank you...

---
Oct 17, 2017 by Smita
What to do if chakli disintegrates while frying? I think i added too much curd. can i salvage it somehow? Please help.

Response: Hello Smita, make sure that the oil is hot enough (medium hot, not cold) when you add the chakli in it for deep frying.
---
Oct 17, 2017 by Shruti
Hi
I followed your method step by step, at last in step 11, when I was shaping the chakli dough was breaking...Where I went wrong?

Response: Hello Shruti, it happens sometimes when the dough is very stiff.
---
Oct 12, 2017 by Shweta
I have tried this n it was nice taste. I just want to know that I can skip curd? For how many days we can store it with curd n without curd..

Response: Hello Shweta, curd is added to make the chaklis crispy and soft (not hard). Whether you add curd or not, it stays good for approx. 20 days in an airtight container at room temperature.
---
Oct 26, 2016 by Soumya Madhu
I tried yesterday.. It was excellent taste...THANKS FOR YOUR EFFORTS..

Response: Thank you Soumya for trying the recipe. Glad to hear that you liked the taste.
---
Oct 22, 2016 by Api
I tried this recipe today and it's perfect. Chakri turned out really well. Thanks you for the step by step photos, always helpful.

Response: You are welcome.
---