Who does not want to have a delicious yet healthy food every day? Aloo gobi curry, a spicy Indian curry of aloo and gobi with a spicy gravy of cashew nuts and poppy seeds is one such basic dish in Indian cooking, which is not just palatable and delicious but healthy as well. The potato and cauliflower submerged in the aromatic spicy gravy is simply inviting and treat to the taste buds.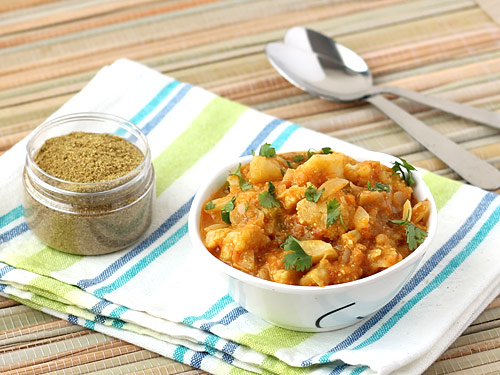 Preparation Time:
10 minutes
Ingredients:
2 medium Potatoes, boiled, peeled and cubed
1/2 medium Cauliflower head (gobi)
1 Cinnamon Stick, broken into 2 pieces
1 Bay Leaf
1 teaspoon Khus Khus (Poppy Seeds)
1 tablespoon chopped Cashew nuts
1/2 inch Ginger
4 cloves Garlic
1 Green Chilli (seeded and chopped)
2 small Onions, chopped
2 medium Tomatoes
2 teaspoons Cumin-Coriander Powder
1/2 teaspoon Red Chilli Powder (lal mirch)
1/4 teaspoon Turmeric Powder (haldi)
3 tablespoons Cooking Oil
Salt
1 tablespoon Coriander Leaves, finely chopped
Directions:
Grind tomato, cashew nuts and khus khus together in a grinder to make a tomato paste. Grind ginger, chilli and garlic in a grinder to make a ginger garlic paste. You can even use mortar and pestle to make a paste; this will give better texture. Separate cauliflower florets and cut them into medium size pieces.

Heat 2 tablespoons oil in a kadai and add cauliflower florets. Sauté them on low heat for 2-3 minutes. Sprinkle salt over it and cook covered until cauliflower is cooked for approx. 8-10 minutes, stir occasionally in between to prevent sticking.

After 8-10 minutes, remove the lid and transfer them to a plate.

Heat remaining 1 tablespoon oil in same kadai. Add cinnamon and bay leaf, sauté for 30 seconds. Add chopped onion and sauté until it turns light brown. Add garlic ginger chilli paste (prepared in step-1) and sauté for a minute.

Add tomato puree (prepared in step-1) and cook on medium heat until oil starts to separate from it.

Add cumin-coriander powder, red chilli powder, turmeric powder and a pinch of salt, stir and mix well.

Add cauliflower florets and boiled potatoes in it.

Stir and cook for 2 minutes.

Add 1 cup water and bring mixture boil over medium heat.

Cook until you get desired consistency of gravy. Turn off the heat and transfer to a serving bowl.

Garnish spicy aloo gobi with coriander leaves and serve it with steamed rice or tandoori roti.
Tips and Variations:
Soak cashew nuts and khus khus in water for 20 minutes before making their paste with tomato to get a smooth texture.
Garnishing is as important as preparation itself, because first visual delight will get juices flowing in your mouth. Garnish it with fresh coriander leaves or dry kasuri methi for nice look and extra flavor.
Taste:
This Indian aloo gobi gravy has its taste tilted towards little spiciness. The paste of cashew nuts and poppy seeds add a nice delightful texture to the gravy which blends well with tenderness of cauliflower and potato.
Serving Ideas:
The main course in Indian food is generally mix and match game. One can serve this curry with choice of Indian flat or fried breads.
Other Step by Step Recipes
---
6 Comments
---
Sep 15, 2016 by Vinita Shah
It tasted yummy when tried for the first time but just make it sure the proportion should be appropriate.

---
Feb 09, 2016 by S MARIANTONY
Looks good but yet to prepare and taste.

---
Nov 25, 2015 by Shoeb Shaikh
This dish come out superb, I always want to learn new recipe. Thanks & god bless.

---
Feb 06, 2015 by Shawal
I love this yummy mouthwatering recipes.

---
Dec 21, 2014 by Dronen
Made this and Baingan Bharta earlier this week, both using Foodviva.com recipes. Both turned out excellent. Some of my best Indian cooking ever!

The important thing seems to be adding the correct ingredients at the correct times so that the flavors have proper depth and complexity. Following Foodviva helps me a lot with this. Thanks!

So, just do what the recipe says in order. Don't be lazy. (For example, make sure to brown the cauliflower first. Don't just add it later. Also, add the garnish.) You will have good dinner.

---
Nov 11, 2014 by Alin
Any recipe tried from your website is just mouthwatering. Please give more yummy and tasty recipes.

---