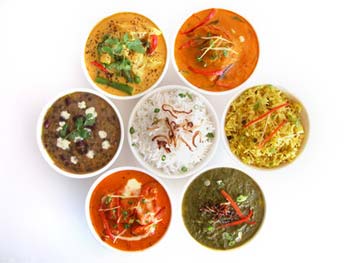 Have you ever tried combining fresh vegetables and fresh fruits in a single salad? If not, then try this Russian salad recipe. It is unique and healthy salad in its own ways as this recipe uses potato, fresh vegetables and fresh fruits and homemade yogurt based dressing. This tempting and mouth watering salad is not just healthy but very easy to prepare as well.
More Salad Recipes
Preparation Time:
10 minutes
Ingredients:
1 cup Thick Yogurt (Curd)
1 medium size boiled Potato
1/2 Apple
1/3 cup Pineapple Pieces
2 tablespoons Pomegranate Seeds
2 tablespoons Green Grapes
1/2 small size Cucumber
2 tablespoons grated Cabbage
2 teaspoons Sugar
1 teaspoon Black Pepper Powder
Salt
Directions:
Prepare salad dressing by mixing curd, sugar, black pepper powder and salt in a bowl.
Peel and chop boiled potato into small pieces.
Peel and chop apple into small pieces.
Peel and grate cucumber. Squeeze it and drain its water.
Mix chopped apple, pineapple pieces, grapes, pomegranate seeds, grated cabbage and grated cucumber in a bowl.
Pour prepared salad dressing over mixed fruits and vegetables and toss gently until all ingredients are coat well with dressing.
Keep it in refrigerator for couple of hours and serve chilled.
Tips and Variations:
Add chopped mint leaves while preparing dressing for nice flavor.
Yogurt should not be sour for best taste.
Add Mayonnaise of your choice and make it creamier.