India is a land of spicy food and there are endless types of spicy chutneys which are integral part of Indian chaats and snacks. This coriander chutney recipe is for preparing irresistible mild spicy Indian style dip using green coriander leaves, mint leaves, green chilies, groundnuts, ginger and lemon juice. It is also famous in western part of world but its referred as cilantro chutney.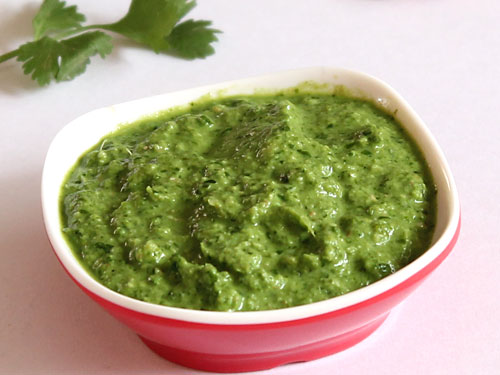 Preparation Time:
5 minutes
Ingredients:
1/2 cup chopped coriander leaves (cilantro leaves)
2 tablespoons mint leaves
1 tablespoon groundnuts
1 green chili, chopped
1/2 inch ginger piece
1 teaspoon sugar (optional)
1/3 teaspoon salt
1 tablespoon lemon juice
2 tablespoons water
Directions:
Take groundnuts, green chili, ginger, sugar and salt in a small jar of mixer grinder.

Grind them in the mixer or food processor until smooth.

Add coriander leaves, mint leaves, lemon juice and water and grind again until smooth puree.

Transfer it to a serving bowl. Coriander chutney with mint is ready. Serve or use it as described in serving ideas below.
Tips and Variations:
Add coriander leaves and mint leaves only after grinding groundnuts, green chilli and ginger, otherwise chutney may not be ground well.
Add 2 cloves of garlic along with other ingredients in step-1 for nice garlic flavor.
This recipe uses only one chili to make it less hot. However, if your palate allows, increase its amount to make it more hot and spicy.
Taste:
Mild spicy, mild tangy and mild sweet.
Serving Ideas:
Use it as an ingredient or condiment to make
bhel puri
, sev puri,
ragda pattice
or any other Indian chaat dishes which calls for spicy and tangy chutney. You can use it as a garnish for various chaat dishes too.
Other Step by Step Recipes
---
7 Comments
---
Mar 26, 2018 by sneha lodha
Wow! The chutney is looking yummy. I will definitely try your recipe myself.

---
Jun 11, 2017 by Priyanka Dhumal
Hi neha, may be because of peanuts, sometimes peanuts are bitter.

---
Feb 08, 2017 by Neha
I prepared but it was bitter. Can u tell me where I went wrong?

Response: Hello Neha, I don't know why it has bitter taste because there is not any bitter ingredient used in this recipe.
---
Oct 19, 2016 by Swetha
How many days we can store coriander chutney?

Response: You can store the coriander chutney for 3-4 days in the refrigerator in a container.
---
Dec 01, 2015 by Gopika Akhil
Liked it very much.My husband enjoyed it with ghee roast. Easy to prepare also.

---
Mar 05, 2015 by Heena Shaikh
Yummy!i Love it. It was very tasty and my family is really happy with me.

---
Jan 23, 2014 by Nilam
Hi I liked your recipes very much. Good to see another food lover. Please can you tell me that groundnut used in green chutney are raw or roasted before use and also sesame seeds?
Thanks & Regards,
Nilam

Response: In this chutney raw groundnuts are used but you can also use roasted ones. Sesame seeds are not used in this recipe.
---