Fruit Raita is a healthy and yummy dip prepared by mixing curd and diced fresh fruits like apple, pineapple, pomegranate, banana, strawberry etc. Curd, which is a main ingredient in this recipe, is a rich source of calcium and good for digestive system. Raita with lot of mixed fruits is generally favorite among kids where they can enjoy multiple fruits in a single preparation.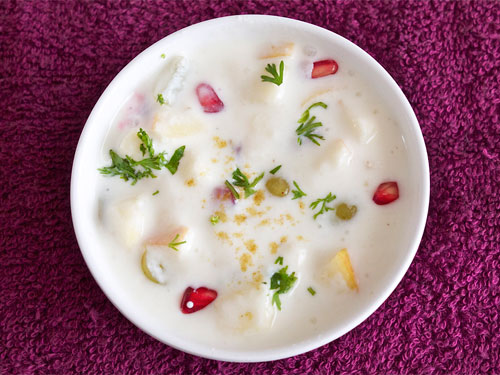 More Chutney Raita Recipes
Preparation Time:
10 minutes
Ingredients:
1/4 cup chopped Apple
1/4 cup chopped Pineapple
1/4 cup chopped Banana
1/4 cup chopped Strawberry, optional
2 tablespoons Pomegranate Seeds
2 cups Thick Curd (Yogurt)
1/4 teaspoon Black Pepper Powder (optional)
1/2 teaspoon Cumin Powder (Jeera Powder)
1 tablespoon Sugar
Salt
Directions:
Take curd (plain yogurt) in a bowl. Add sugar, salt, black pepper powder and cumin powder and beat until curd mixture becomes smooth and creamy.
Add chopped apple, pineapple, banana, strawberry and pomegranate seeds and mix well.
One of the easiest and healthy fruit dishes, mix fruit raita, is ready. Chill it in refrigerator for 30 minutes (if required and preferred).
Fill individual serving bowls with chilled raita and serve.
Tips and Variations:
Few people does not like sugar mixed with curd. Adjust the quantity of sugar and salt according to your preferred taste.
There is no limit on quantity of healthy fruits that can be used to prepare this raita. You can make it as much fruity as you like.
Adding variety of fruits really brings out the best taste. Avoid using over ripen and mushy fruits as they will ruin the taste.
We have used fresh fruits to make it. However, you can use canned or frozen fruits as well. (Do not use syrup of canned fruits to make it)
Do not keep apple and banana pieces idle for long time as they will oxidize and turn black.
Taste:
Sour and Sweet taste of yogurt and fruits
Serving Ideas:
Fruit raita, which is one of the best and easy to prepare dishes with fruits, can be served as a dessert or as an accompaniment to Indian meals.