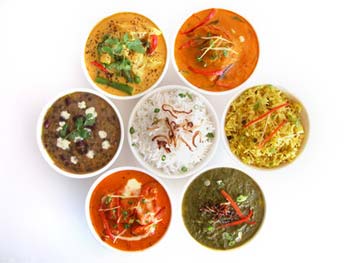 Cranberry Chutney, a delectable combination of juicy cranberries and apples is best sweet and sour chutney that can transforms any food it accompanies. Not only that, its preparation is super easy, just simmer cranberries, chopped apples, golden raisins, ground ginger, brown sugar and cider vinegar until desired consistency and voila! chutney is ready.
More Chutney Raita Recipes
Preparation Time:
10 minutes
Ingredients:
1 cup Fresh or Frozen Cranberries
2 large cooking Apples, peeled, cored and chopped
1/4 teaspoon Ground Ginger
1/3 cup Brown Sugar
2 tablespoons Golden Raisins
3 tablespoons Cider Vinegar
1/4 teaspoon Ground Cloves
1/4 teaspoon Ground Cinnamon
Directions:
Combine cranberries, chopped apples, golden raisins, ground ginger, brown sugar, cider vinegar, ground cloves and ground cinnamon in a saucepan and cook over medium heat.
When mixture starts to boil, reduce heat to low and cook covered until apples turns tender and cranberries bursts open or for around 10-15 minutes. Stir in between occasionally to prevent sticking. If required, add 1-2 tablespoons water to prevent sticking. Cooking time may vary according to type of apples you are using.
Remove lid and cook until mixture turns thick.
Turn off heat and transfer prepared chutney to a serving bowl. Allow it to cool at room temperature.
Cranberry apple chutney is ready, serve it or transfer it to an airtight container and store in a refrigerator and use it for up to 2 weeks.
Tips and Variations:
Cook longer if you like a sauce type consistency of chutney.
If you are using granny smith apples then they will cook faster and turn mushy.
Taste:
Heavenly mild sweet and tantalizingly tangy
Serving Ideas:
Use cranberry chutney as topping/spread for sandwiches. It makes backed chicken and meat even more delicious when served as relish.