Apple Smoothie prepared with this recipe is an absolute bliss to taste buds. This kid friendly fresh fruit smoothie recipe is a simple blend of apple, milk, yogurt, almond and honey. The addition of cinnamon brings subtle but noticeable flavor that compliments the overall sweet taste.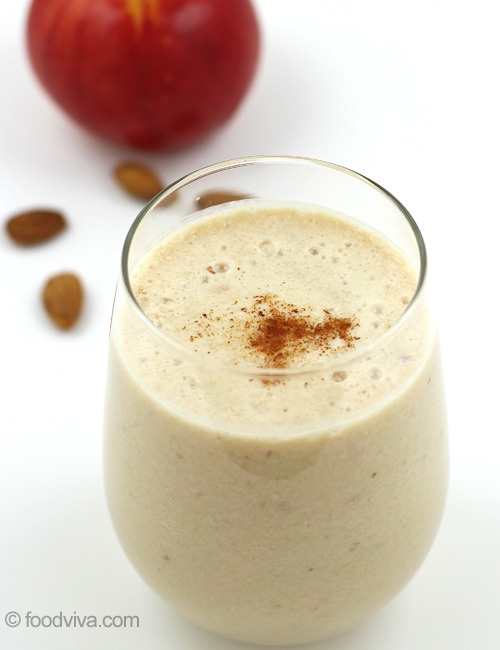 Preparation Time:
10 minutes
Ingredients:
1 large Apple, peeled, cored and chopped
1/2 cup Milk
1/3 cup Vanilla Yogurt or Plain Yogurt
5 Almonds (or 1 tablespoon almond powder), optional
1 teaspoon Honey or Sugar
A dash of ground Cinnamon, optional
Directions:
Peel and cut apple into halves. Remove the core and cut apple into large pieces.

Add apple and almonds in a blender jar.

Add milk, yogurt and honey.

Blend until smooth and there are no chunks of fruit. Pour prepared smoothie into a chilled serving glass and sprinkle cinnamon over it. Drink it immediately for better taste because it will turn brown within half an hour.
Tips and Variations:
If you do not like the strong flavor of cinnamon, skip it.
Replace cinnamon with cardamom for nice flavor.
Taste:
Sweet and creamy taste of apple with mild touch of cinnamon.
Serving Ideas:
It is an ideal and stomach filling healthy drink that can be served in the breakfast. Indulge yourself in smooth and silky smoothie dessert for sweet and cool ending of meal.
---
20 Comments
---
Jun 15, 2018 by Kim
I did not use the almonds, but almond milk. It's delicious. It definitely curbs sweet tooth.

---
Feb 22, 2018 by harry
decent, drinkablre but not the best

---
Nov 25, 2017 by Stephanie
I used a bullet blender to mix it, and so used one of the straining lids to pour it into a glass. I assumed there would still be chunks. It was creamy, not thick. Looked like whipped milk, white and frothy. Used two small green apples, Fage plain greek yogurt and sugar because that's what we had on hand. It was good but not something we'd drink again. I and 2 other family members tried it. One of those things where it's not a bad taste, just not something you care for.

---
Sep 04, 2017 by Luke
This smoothie was terrible. It's just mixing apples with milk and has an awful consistency. Eww.

---
Aug 22, 2017 by Kathleen
I didn't really like this smoothie much. It was too sweet and the consistency was weird.

---
Jun 02, 2017 by Rylan
Really weird consistency, but i guess that's what happens when you blend apple. Taste was ok. I would extremely recommend making a berry smoothie.

---
Apr 09, 2017 by Sweet
Sweet and yummy to my surprise, used almond milk instead of milk and almonds.

---
Mar 07, 2017 by Coltonhill
This is so awesome. I had the biggest Apple, it is so sweet.

---
Oct 21, 2016 by Sandra Conners
I added baby spinach and used almond milk in mine. It's delicious & so healthy.

---
Sep 21, 2016 by Foodie
Yum
I added a bit of extra honey because of my sweet tooth. :)

---
Aug 13, 2016 by Gerrieq
It was really nice, though I did not add cinnamon or nuts because I didn't have any but it was really delicious and healthy.

---
Jun 29, 2016 by Chris
Great Smoothie! I will definitely make this again. Only suggestion would be to add some ice for a more chilled smoothie, and honey and sugar for a sweet taste.

---
Apr 24, 2016 by Beverly
Great taste, big fan of nuts. I might try nutmeg next time. Thanks for sharing!

---
Mar 15, 2016 by Kara
The taste was okay but it tasted kind of weird but it still was pretty good.

---
Feb 16, 2016 by Ann
Absolutely loved this...skipped the almonds didn't have any on hand. But, added fresh nutmeg! Apple Pie in a glass! Thank you!

---
Jan 17, 2016 by Deep
Nice smoothie. Almonds and cinnamon really compliment the apple and yoghurt.

---
Jan 12, 2016 by Shivone Sanford
Pretty good...I've never been a fan of almonds but I made exactly as instructed. I think the cinnamon really topped it off. I would just like it to be a little more creamier...any suggestions?
Thanks.

Response: You can add 1/2 banana to make it creamy.
---
Jan 07, 2016 by Maggie
Didn't taste good at all. Yogurt overpowers apple and definitely do NOT put almond powder in.

Response: Hi Maggie, sorry to hear that you didn't like the taste of this smoothie. If you don't like the taste of almond, you can skip the almond powder.
---
Aug 22, 2015 by Maya
I would substitute sugar for dates to make it more healthy and nutritious. I also skipped milk and added a little bit of water instead. But it's a delicious smoothie and I'll definite make it again.

---
May 15, 2015 by Matthew
This is a great healthy snack, for an additional flavor, I would suggest 1-2 TBSP of sugar to bring out the flavor of the apple.

---