Veg paratha is a delicious and nutritious traditional Indian bread prepared with lots of fresh vegetables and wheat flour. If you don't like to eat vegetables alone, then this shallow fried Indian flatbread is a delicious way to get their goodness. To make mixed vegetable parathas in easier and better way without losing its nutrients, various vegetables are sautéed and mixed with wheat flour to make dough and then paratha is cooked in a normal way. Follow this recipe and discover how tasty parathas this method makes that rivals its stuffed counterpart.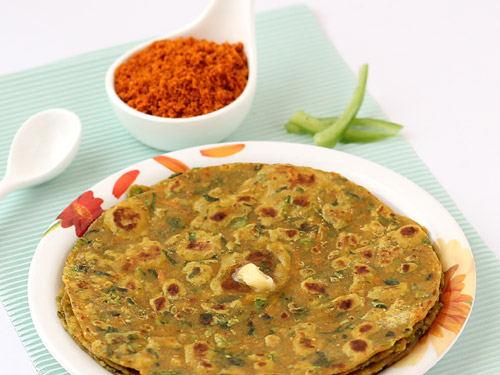 Preparation Time:
10 minutes
Serves:
2 servings (8 pieces)
Ingredients:
1 cup + 1/2 cup Wheat Flour
1/4 cup shredded Carrot (gajar)
1/2 cup shredded Cabbage
1/4 cup finely chopped Capsicum
2 tablespoons finely chopped Spring Onion or Normal Onion
2 tablespoons finely chopped Fenugreek (Methi) Leaves, optional
1 teaspoon crushed Ginger-Garlic or paste
1/2 teaspoon Turmeric Powder
1/4 cup Green Peas, boiled and mashed
1 tablespoons finely chopped, Coriander Leaves
1 Green Chilli, finely chopped
1/4 teaspoon Garam Masala Powder
1 teaspoon Coriander Powder
1/2 teaspoon Red Chilli Powder
2½ teaspoons + for shallow frying Oil
Salt
Directions:
Heat 1-teaspoon oil in a non-stick pan over medium flame. Add carrot, cabbage, capsicum, spring onion, fenugreek leaves and crushed ginger-garlic. If you are using normal onion, first sauté it for a minute and then add remaining vegetables.

Sprinkle salt and turmeric powder over it. Mix well and sauté until vegetables are tender, for approx. 3-4 minutes. Add mashed green peas.

Mix well and turn off the flame. Let sautéed mixed vegetables cool for 5-minutes.

Take 1-cup wheat flour, 1-teaspoon oil and salt in a bowl. Add cooked vegetable mixture, chopped coriander leaves, chopped green chilli, red chilli powder, garam masala powder and coriander powder. Mix them properly.

Knead smooth and little stiff dough (like paratha dough) using a small amount of water (approx. 1-2 tablespoons). Grease its surface with 1/2 teaspoon oil, cover it and let it rest for 10 minutes.

After 10 minutes, divide dough into 8 equal parts and give them a round shape like a ball.

Take 1/2 cup dry wheat flour in a plate for dusting. Take one dough ball and flatten it to give a shape like pattie. Coat it with dry wheat flour and place it on a roti making board.

Roll it out into a approx. 6-7 inch diameter raw paratha.

Heat a tava/griddle over medium flame. When tava is hot, place raw paratha on it. When tiny bubbles start to rise on the surface, flip it and reduce the flame to low.

Spread 1/4 teaspoon oil around edges and 1/4 teaspoon oil over surface with the help of a spatula and cook for approx. 30-40 seconds. Flip it again and spread another 1/4 teaspoon oil around edges and 1/4 teaspoon oil over its surface. Press it with spatula and let it cook for 30-40 seconds over medium flame. Cook until golden brown spots appear on both sides.

Follow the same process for remaining dough balls. Mixed vegetable paratha is ready. Serve with curd and pickle.
Tips and Variations:
Add the mixed vegetables of your choice and according to the availability.
Mash the boiled peas properly to avoid tearing of dough while rolling out the paratha.
You can also use boiled vegetables like potato, carrot, cabbage and green peas instead of sautéed one. Boil vegetables of your choice, drain excess water, mash them using a potato masher and mix with wheat flour and spices and make a dough.
For variation, you can make the triangle shaped vegetable parathas instead of round shaped.
Taste:
Soft and mild spicy
Serving Ideas:
It can be served with cucumber raita as a healthy breakfast. Wrap it in aluminium foil and pack it in your kid's lunch box.
Other Step by Step Recipes
---
11 Comments
---
Feb 22, 2016 by Rekha. Sheth
Very good step by step instructions with photos. Easy to follow. Delicious recipes. Useful tips. Keep it up.

Response: Thank you Rekha.
---
Jun 19, 2015 by Shainaz
I liked vegetable cutlet recipe and vegetable paratha recipe.

---
Mar 27, 2015 by Rashmi
Awesome website, just love it.

---
Jan 17, 2015 by Neeraja
Very healthy and nutritious breakfast. I will try to make it during my pregnancy. Thanks a lot for this recipe.

---
Nov 13, 2014 by Saroja Shukla
An excellent and easy to do recipe for beginners, and also one with taste, variety and nutrition. I can teach daughter easily. Thank you.

---
Oct 12, 2014 by Beena Sunny Ruparel
Nice and easy recipe. I liked it. It is very helpful for me when I am confused that how to make this item so this step photos helps me and guides me, thanks a lot

---
Sep 28, 2014 by bharathi
Very healthy recipe. good one for kids.

---
Jul 02, 2014 by jaya
Hi, everytime I try making these, I go wrong at step 5 above. The mixed vegetables mixed along with the flour just ends up too soggy, I end up mixing a lot of extra flour to get it to the right consistency to roll but it always end up looking and tasting more of atta and very less vegetables. I have tried various variations, including draining all water from vegetables before mixing in dry flour but it is still very wet and i end up just pouring lots of flour to make the dough firm enough to roll. Please advice on this.

Response: Hi Jaya, thanks for trying the recipe. Did you cook the mixed veggies in step-2? After cooking they should turn semi-dry. Whether you are using boiled vegetables or raw vegetables, cook them in a non-stick pan (in step-2) until almost water evaporates and mixture turns semi-dry; then cool them down before mixing with the flour. If you are making it in large quantity then it will take more time to cook the vegetables in step-2. Make sure that you cook the vegetables in a pan after boiling.
---
Dec 05, 2013 by nash
You are an amazing cook! plus you have lot of practical ideas, which will be useful for me in future.

---
Jun 07, 2013 by humi
Nutritious paratha. Just what i need for my lunch in summers.

---
Jun 03, 2013 by Niti
I like this type of healthy and instant recipes to make for the breakfast in the morning.

---