It is a delicious North Indian curry made with paneer (cottage cheese) and tomato based spicy gravy laced with spices. This is a traditional recipe that has been followed from generations and has been mainstay preparation in Indian cuisine since the time of Moguls. This shahi paneer recipe uses cashew nut based tomato gravy to bring in the rich texture and flavor.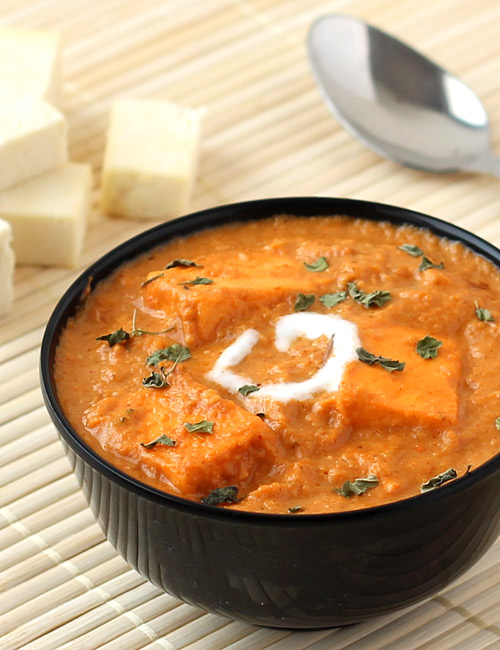 Preparation Time:
15 minutes
Ingredients:
250 gms Paneer (cottage cheese), cubed into 1-inch pieces
1 medium Tomato, crushed
2 medium Onions
5-6 Cashew Nuts
1 teaspoon Coriander Seeds, roasted
1-2 Cloves (lavang)
1/2 piece of Bay Leaf
A small piece of Cinnamon Stick
2 Green Cardamoms
1 tablespoon Ginger Garlic Paste
1/4 teaspoon Turmeric Powder
1/2 teaspoon Red Chili Powder
1/2 teaspoon Coriander Powder
1 drop of Red Food Color, optional
1/3 cup Curd (not sour), beaten
1/3 cup Warm Water
1/2 teaspoon Sugar, optional
2 tablespoons Fresh Cream
1/4 teaspoon Garam Masala Powder
2-3 strands of Saffron, dissolved in 1 teaspoon water, optional
3 tablespoons Cooking Oil or Ghee (clarified butter)
Salt to taste
1-2 teaspoons Kasuri Methi , for garnishing
Directions:
Grind cashew nuts with roasted coriander seeds into smooth powder and keep aside until required.

Blanch the onions by following the directions given in the "

How to Blanch Onion

" recipe and crush the blanched onion to medium coarse paste in a grinder. Heat oil in a kadai (or pan) over medium flame. Add cloves, bay leaf, cinnamon and green cardamom. When they begin to crackle, add crushed onion.

Stir-fry until it becomes light brown for approx. 3-4 minutes.

Add ginger-garlic paste, turmeric powder, red chilli powder, coriander powder, a drop of red food color, cashew nut powder (prepared in step-1) and stir-fry for a minute.

Add crushed tomato puree and salt.

Stir-fry for approx. 2-minutes.

Add curd, sugar and 1/3 cup warm water.

Mix them and let mixture boil until oil starts to separate.

Takeaway kadai from flame and let the mixture cool for 5 minutes. Discard whole spices (cloves, bay leaf, cinnamon and green cardamom), transfer mixture to a blender jar and blend it to smooth puree in blender or food processor. Again, transfer it to same kadai and place on the stove.

Add fresh cream, garam masala powder and dissolved saffron.

Mix well and cook for a minute.

Add paneer cubes and mix properly to coat them with gravy.

Cook for 3-4 minutes and turn off flame.

Garnish it with kasuri methi and serve hot with Punjabi butter naan or tandoori roti in lunch.
Tips and Variations:
This best shahi paneer recipe uses uncooked paneer (paneer in its basic form); however, you can deep fry paneer cubes in butter/ghee or oil until light brown and add into the curry for variation.
To give an extra creamy texture and taste to shahi paneer gravy, add 1/4-cup fresh cream instead of 2 tablespoons in step 10 in above recipe.
Make sure to remove and discard the whole spices before blending the tomato gravy in mixer-grinder.
To give prepared shahi paneer a tempting look, garnish it with a cream. The contrast of white and yellow-red color of gravy gives it a delicious look.
Serving Ideas:
Shahi paneer can be served with butter naan, tandoori roti, paratha, kulcha, etc. for lunch or dinner. It also tastes better when served with steamed rice or peas pulao.
Other Step by Step Recipes
---
45 Comments
---
Dec 17, 2017 by Chantal
Hi,

What is curd and cloves lavang? Do you know the name in French?
Thanks, I want to try this, it looks very good.
Chantal

Response: Curd means plain yogurt and cloves (lavang) is a spice which is used in Indian cuisine. You can search about cloves on google to get more info and picture.
---
Dec 02, 2017 by Amrit
Would recommend adding a little bit of milk but otherwise a good recipe for beginners. Our family enjoyed it this weekend.

---
Sep 18, 2017 by joseph thomas
As a restaurant manager, food viva helps me a lot to train the trainee cooks by giving more and more valuable tips regarding the common dishes, accompaniments and presentation. Thank u.

---
Aug 03, 2017 by Anupam
Hi
I do not have a blender. Is it possible to skip the blending stage and replace it with something else that doesn't require spending on a blender.

Response: Hello Anupam, blender/mixer is necessary to grind the mixture to make smooth gravy.
---
Apr 11, 2017 by Rajeshwari
Superb! My children liked very much, thank you.

---
Mar 18, 2017 by Rashami
I am gonna try this recipe. You really explain very well. Great website. Appreciate your efforts......

---
Sep 15, 2016 by JS
This is a great recipe! Well done.

Response: Thank You.
---
Aug 24, 2016 by Dr rahul
Excellent presentation.

---
Aug 10, 2016 by Shashi
My mom made your recipe and it turned out Delicious! Thank You.

---
Aug 04, 2016 by Divya
Hi, what do you mean when you say crush the tomatoe? Thanks in advance.

Response: Hello Divya, it means, grind the tomatoes in a grinder until smooth puree.
---
Jul 20, 2016 by shaku patel
I want to try this recipe but wanted to know if you can tell me 1 medium size onion to by weight or cup conversion. Thank you

Response: Hello Shaku, 1 medium Onion = approx. 1/2 cup chopped Onion.
---
Jul 18, 2016 by Sumit
Thanks for very nice recipe.

---
Jun 27, 2016 by Rameshwardas Kamath
Simple, easy to follow steps with mention of all ingredients best suited for the preparation.

---
Apr 04, 2016 by Mansi
Wonderful racipe... Everyone loved at home.

---
Jan 10, 2016 by Lee
What is the ghee for, listed in the ingredients?

Response: Ghee means clarified butter in English and it is used in curry to get the restaurant style taste. If it is not available, you can use normal butter or cooking oil.
---
Nov 22, 2015 by Shivani singla
Awesome recipe simple nd superb,,,, my hubby love it nd praise me .... Tnxxx so muchhh

---
Nov 22, 2015 by Ayushi
I used milk instead of cream and still it turned out to be so yummmy and awesome, better than any other paneer. Thank you so much for the recipe. I look forward to trying your other recipes as well.

Response: Thank you Ayushi for trying the recipe and I'm glad you loved the taste of the curry.
---
Nov 04, 2015 by Ambily A
Wonderful curry recipe. I have prepared and served with jeera pulav. Just loved it. Thank u so much for the wonderful recipe.

---
Sep 23, 2015 by Shoeb Shaikh
Thank you for sharing & making recipe more simple, it was taste good & better than restaurant.

---
Sep 01, 2015 by Sumit
Besan, suji or toast, which is good for increasing the gravy for keeping taste same?

Response: If you want to increase the gravy of curry, add grated carrot (or boiled and crushed carrot).
---
Aug 31, 2015 by Aanchal
What kind of cream? Can I replace it with milk?

Also, what can I replace curd with? Can I use Greek yogurt?

Response: Hi Aanchal, fresh cream (homemade or store bought) (whipping cream) can be used in this recipe. If it is not available, you can skip the cream or use half and half or full fat milk instead of it. Yes, you can use plain greek yogurt instead of curd.
---
Jul 14, 2015 by Anjali singh
I just love cooking and after visiting your website, I have started loving it more...your recipes are truly awesome...and easy to make..keep writing.

Response: Thank You Anjali.
---
Jun 26, 2015 by Deep
I love this. Thanks for so good recipes, easily understand every step.

---
May 27, 2015 by Premgita
So easy to make, so yummy. I used a whizz stick to blend- it was easier than using a food processor - less dishes. The sweet sauce also works well with pumpkin which I tried yesterday. Add once all is whizzed and simmer till soft. I could not stop eating it. Served it with saffron rice.

---
May 05, 2015 by Neha Kapoor
Hi,

I loved this recipe of yours. It really came out well.
I am planning to cook it for my daughter's b'day party. How much should I take the ingredients if I have to cook for 20 people. Please suggest.

Response: Hi Neha, thanks for trying the recipe. This recipe serves 2 people, so to make this for 20 people, you need to multiply all the ingredients by 10. When you make this in large quantity, it will take more time to cook. Taste the gravy at the end of each step and adjust the seasoning according to it.
---
Mar 06, 2015 by Chinmayi
Very nicely explained. It worked out very well for me.
Thank you so much.

---
Mar 03, 2015 by Deepanjali
I had tried this recipe, it was just so yummy.

---
Jan 31, 2015 by Ayush
How can we remove spices before blending?

Response: Just pick the whole spices (cloves, bay leaf, cinnamon and green cardamom) with a spoon from the gravy and remove them.
---
Jan 28, 2015 by Sravani
Awesome Recipe. As all the ingredients used to prepare recipe are available at home.

---
Jan 17, 2015 by kaarunya
Awesome recipe !!! Thank you so much :) Love this website !!

---
Oct 24, 2014 by Salil
Awesome and easy to follow recipe ! Gave a five star hotel food look !

---
Oct 17, 2014 by krishna
Thank you for reply and sharing recipe...tried it once and it was to good.

---
Oct 17, 2014 by navi dhillon
Awesome recipe, thanks a lot. It made me so happy, keep writing.

---
Oct 14, 2014 by krishna
Can we use simple crushed onions instead of blanched onion? What is the difference?

Response: Yes Krishna, we can use simple crushed onions instead of blanched one.
The main difference between blanched onion and simple onion is cooking time. Blanched onion takes less time to turn light brown while cooking compared to raw onion (normal onion).
---
Sep 22, 2014 by Neetu
An awsome recipe !! Try it once. Thanks.

---
Sep 19, 2014 by Bharat
Wow! great recipe... This is the original recipe for Shahi Paneer and cashews. I just made a bit of difference to it.. Added paneer & cashews a little after I added onion so that they were a bit toasted as i like Paneer in fried form more than Plain cheese. Overall it was easy to follow the instructions and making it. Though it was my first time I was making any curry. Thanks a lot Yummy!

---
Sep 17, 2014 by Aruna malhotra
Yummy curry........... thanks for tips.

---
Aug 09, 2014 by Smita Das
Excellent reciepe, thanks a lot for the pics and step by step instructions.

---
Jul 06, 2014 by Yaduvansh sawant
Awesome recipe...every one in my family loved it....thanks....

---
May 04, 2014 by mrs. Sunita Gupta
Its awsome and yummy

---
Apr 05, 2014 by lata sharma.
Very good recipe. Easy to follow. I made it first time and everyone loved it.

Response: Thanks Lata.
---
Feb 11, 2014 by RS
What is the difference between shahi paneer and Butter panner?

Response: Main difference between both is the gravy.
1. Shahi Paneer has mild sweet and spicy gravy of curd, tomato, cashew nuts, onion and fresh cream with lots of flavorful spices (coriander seeds, cloves, bay leaf, cinnamon stick, green cardamom) and dissolved saffron strands (kesar).
2. While Paneer Butter Masala has mild tangy and spicy gravy of tomato, cashew nuts, onion and fresh cream with bay leaf. The amount of tomato used in this gravy is more than the other gravy, which makes it little tangy.
---
Oct 27, 2013 by Onkar Singh
very good so tasty recipe.

---
Aug 24, 2013 by Pooja
Yummmyyyy....!!!! I must say it is one of d best recipe I got till date...feeling like I'm having my lunch in a traditional punjabi dhaba.....Thank you so much...

---
Jun 03, 2013 by medha
Loved this recipe of yours. It tasted almost like the ones we have in the restaurant. As a matter of fact, being a non vegetarian, I am planning to use this recipe for my butter chicken too sometime.. Thanks, it was YUM!!!

---