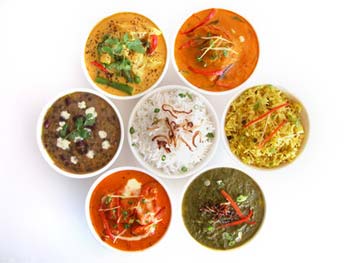 This is one of the easy paneer dishes to prepare at home at anytime. Essentially it is an extension of aloo curry recipe where paneer cubes are added along with potato cubes in a mild spicy tomato based gravy. The taste and texture of pan-fried chopped onion, Indian curry spices, chopped tomato, boiled potato and soft paneer is further enhanced by addition of cashew nut paste. Enjoy this outstanding combination of potato and paneer with choice of Indian bread and turn any occasion into special one.
More Curry Recipes
Preparation Time:
10 minutes
Ingredients:
2 medium Potatoes (aloo)
100 gms (1/4 lbs) Paneer, cut into 1 inch cubes
1 medium Onion, finely chopped
2 medium Tomatoes, crushed
7-8 Cashew nuts
1 teaspoon crushed Ginger-Garlic
1 Bay Leaf
1/2 teaspoon Cumin Seeds
1/2 teaspoon Garam Masala
1/4 teaspoon Turmeric Powder
3/4 teaspoon Red Chilli Powder
2 teaspoons Coriander Powder
1/2 teaspoon Sugar (optional)
2 tablespoons + 1 tablespoon Oil
2 tablespoons grated Paneer
Salt
Water
Directions:
Soak cashew nuts in hot water for 20 minutes. Grind them with 2 tablespoons water and make a smooth paste.
Peel and cut potatoes into small 1-inch cubes. Boil potato cubes in salted water over medium flame for approx. 8-10 minutes or until fork tender. Drain them.
Heat 2 tablespoons oil in kadai. Shallow fry paneer cubes until light brown. Drain excess oil by placing them on kitchen paper napkin. Keep aside until needed in later steps.
Shallow fry boiled potato cubes in same kadai for approx. 1-2 minutes and drain excess oil.
Heat remaining 1-tablespoon oil in same kadai.
Add cumin seeds; when they start to splutter, add bay leaf and onion. Sauté until onion turns light brown.
Add crushed ginger garlic and sauté for 1 minute.
Add crushed tomato and cook until oil starts to separate. Add red chilli powder, turmeric powder, coriander powder, garam masala, sugar and salt; cook for 1 minute.
Add cashew nut paste (prepared in step 1) and cook for 1 minute.
Add 1/2 cup water and bring mixture to boil over medium flame. Let gravy boil for 3 to 4 minutes.
Add shallow fried potato cubes and paneer cubes in boiling gravy and cook for 3 minutes. (If you like more liquid consistency of gravy, then add 1/2 cup more water before adding potato and paneer).
Turn off the flame and transfer prepared aloo paneer curry to serving bowl.
Garnish it with grated paneer and serve hot.
Tips and Variations:
Use 2-tablespoons warm milk instead of hot water to make cashew nut paste. Milk will make cashew nut paste richer.
Deep fry paneer cubes and potato cubes to give them a delicious texture.
Garnish this sabzi with coriander leaves and fresh cream for a rich and creamy consistency.
Taste:
Delicate aloo and paneer soaked in a mild spicy tomato based gravy.
Serving Ideas:
Aloo paneer masala is one of the best and simple Indian vegetable recipes that tastes best with Indian breads like plain roti, phulka roti, chapati, etc and makes a mouth watering healthy Indian dinner.