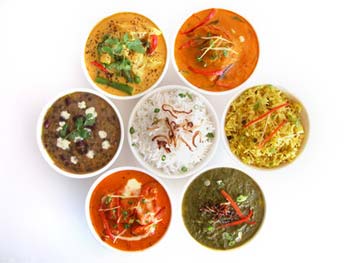 Apart from vegetables, this recipe also uses fruits to give a new dimension to its taste. Also, this recipe does not mix all ingredients, instead, it requires arranging veggies and fruits in a specified order to make it visually tempting.
More Salad Recipes
Preparation Time:
10 minutes
Ingredients:
1 cup shredded Cabbage
1 Tomato
1 Onion, sliced
1 Carrot
1/2 Cucumber, sliced
6-8 Salad Leaves (lettuce or spinach)
1/3 Apple, sliced
8-10 Grapes
1 tablespoon Pomegranate Seeds
2-3 teaspoons Lemon juice
1/2 teaspoon Black Pepper Powder
Salt
Chaat Masala to taste
Directions:
Mix shredded cabbage, pomegranate seeds and grapes in a bowl. Sprinkle chaat masala and salt over it and mix well.
Peel and chop carrot into small pieces. Chop tomatoes into small pieces.
Mix carrot and tomato in another bowl. Sprinkle chaat masala and salt, mix well.
Arrange lettuce or spinach leaves in a large serving plate.
Put mixed cabbage in the center of the plate.
Arrange chopped carrot and tomato mixture around it.
Arrange apple slices around carrot and tomato mixture.
Arrange cucumber and onion slices in an alternate order.
Sprinkle chat masala, salt and black pepper powder over it.
Squirt lemon juice over arranged veggies and fruits.
Keep vegetable salad in a refrigerator before serving. Serve it chilled.