Sambar, a hot and spicy lentil soup with mixed vegetables, is a must have accompaniment for popular South Indian breakfast and lunch recipes like Idli, Dosa, Medu Vada, Steamed Rice etc. It is known as Sambaru in Karnataka, Kuzhambu in Tamilnadu and Sambhar in North India due to different dialects but its preparation is same and it requires cooking steamed/boiled vegetables and lentils with sautéed tomato onion and spicy mix of tamarind,
Sambar Masala Powder
and varieties of spices. This Sambar Recipe is for preparing the simple and traditional Vegetable Sambar and explains it with Step by Step Photos and provides tips to help you customize it to your taste and preference.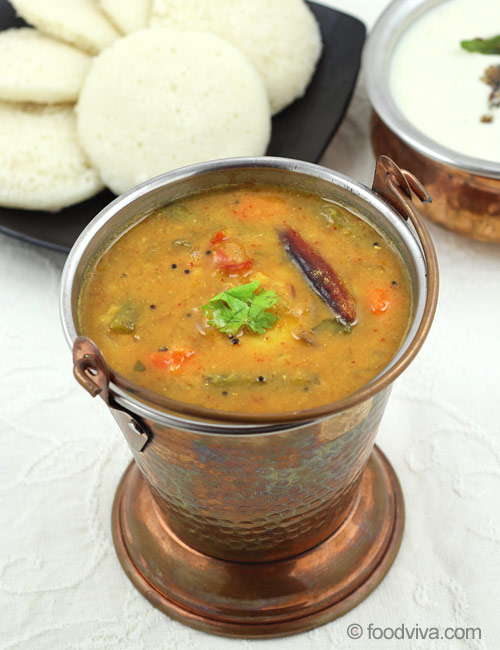 More South Indian Recipes
Preparation Time:
 10 minutes
Ingredients:
1/3 cup Toor Dal (split pigeon peas)
1/4 teaspoon Turmeric Powder
1 cup chopped Mixed Vegetables
1/2 teaspoon Mustard Seeds
5-6 Curry Leaves
1-2 Dry Red Chillies
A pinch of Asafoetida
1 medium Onion, finely chopped (approx. 1/3 cup)
1 tablespoon Sambar Powder
1/2 tablespoon Seedless Tamarind
1 Tomato, finely chopped (approx. 1/3 cup)
1 tablespoon Oil
1 cup + 1½ cups Water
1 tablespoon finely chopped Coriander Leaves
Salt to taste
Note:
You can use mixed vegetables like Cauliflower, Drumsticks, Capsicum, Radish, Potato, Brinjal, Carrot, French Beans, Okra and so on. Use maximum 3 to 5 varieties of vegetables so that Sambar doesn't turn thick and Vegetables don't take away slurpy-ness of this delicious dish.
In this recipe, vegetables are cooked along with toor dal in pressure cooker. However, you can also cook in 1/2-1 cup water in a vessel over low-medium flame until they turn tender. Do not discard the water – use it along with cooked vegetables in step-10 below.
Directions:
Prepare Tamarind Juice – soak 1/2 tablespoon tamarind in 3-tablespoons of hot water for 10-15 minutes, mash it with a spoon and strain it using a sieve and discard the solids.

Add toor dal, turmeric powder and 1 cup water in 3-4 liters capacity steel or aluminum pressure cooker. Add mixed vegetables in a small container, place it inside the pressure cooker and close the cooker lid. Pressure cook over medium flame for 3-4 whistles. For this recipe we used 1/4 cup potato, 1/4 cup brinjal, 1/4 cup carrot and 1/4 cup French beans as mixed vegetables.

Turn off the flame and allow it to stand until pressure comes down naturally. Open the lid, remove the container of vegetables and mash the dal using spatula or immersion blender.

Heat 1-tablespoon oil in a pan or kadai over medium flame. Add mustard seeds. When they start to splutter, add curry leaves, dry red chilies, asafoetida, and sauté for 10-15 seconds.

Add chopped onion.

Sauté until onion turns transparent. Add tamarind juice and cook for 2-3 minutes.

Add chopped tomatoes.

Sauté until tomatoes turn soft. Add Sambar Powder.

Stir and cook for a minute.

Add cooked and mashed dal, boiled vegetables, 1½ cups water and salt.

Mix well and boil until it turns frothy; it will take around 5-7 minutes.

Turn off the flame. Transfer spicy Sambar into a serving bowl and garnish with finely chopped coriander leaves.
Tips and Variations:
You can use any good brand of store bought or Homemade Sambar Masala Powder. The final taste of Sambhar greatly depends on the quality and aroma of Sambhar Powder.
If you are preparing it in large quantity, cook vegetables separately in pressure cooker to speed up the process.
Add 1/2-teaspoon red chili powder to make it spicier.
Taste:
 Hot and spicy with mild tanginess
Serving Ideas:
 Serve it as an accompaniment with Idli, Vada, Dosa and Kara Pongal in the breakfast of in South Indian Meal or just enjoy it as a soup. Serve it with steamed rice for a traditional awesome meal.