This popular street food doesn't need any introduction! Potato, onion, chickpeas, coriander chutney stuffed crispy puri drenched in sour and spicy mint flavored water (pudina pani) easily fills one's mouth and takes taste buds on a journey of heaven and it is no wonder that it's a popular street snack along the length and breadth of India and known as gol gappa, puchka, pakodi, Pani Puri, etc. Preparing pudina vala pani and masala for panipuri at home is not only a healthier way of enjoying it but also allows you to customize it the way you like it. It is very simple to assemble and one can easily find puffed puri at any Indian grocery store or prepare at home with
this
recipe.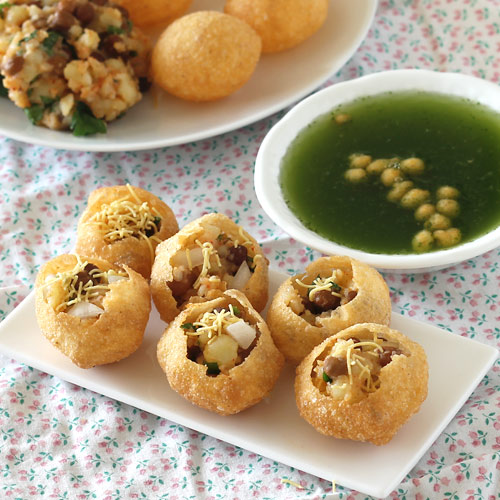 Preparation Time:
20 minutes
Ingredients:
32 Puris or Golgappa (ready-made or homemade)
1 medium Onion, finely chopped (optional)
1/2 cup Sev
1/4 cup Date Tamarind Chutney, optional
Ingredients for Pani:
1/2 cup Mint Leaves
1/2 cup Coriander Leaves, chopped
1-2 Green Chilli, chopped (or to taste)
1/2 inch pieces of Ginger
1½ medium size Lemon
3 tablespoons Sugar
1 teaspoon Chaat Masala Powder
1/4 teaspoons Black Salt (kala namak / sanchal)
4 tablespoons Boondi, optional
Salt to taste
4 cups Water
Ingredients for Masala:
1½ cups boiled, peeled and mashed Potato (approx. 3 medium)
1/2 cup boiled Kala Chana (black chickpeas)
1/2 teaspoon Red Chilli Powder
1/2 teaspoon Cumin-Coriander Powder
1/4 teaspoon Chaat Masala Powder
2 tablespoons finely chopped Coriander Leaves, optional
Salt to taste
Notes:
 Soak the kala chana (1/4 cup) for 7-8 hours or overnight in water. Boil chana and potatoes with salt and water in a pressure cooker for 3-4 whistles over medium flame or until cooked.
Method for Pani:
Rinse coriander and mint leaves in water and take all the ingredients of pani.

Add mint leaves, coriander leaves, green chilli, ginger and lemon juice (lemon juice is added while grinding to prevent the mint leaves from turning dark) in the small chutney jar of a grinder.

Grind until smooth paste (if required, add 1/4 cup water while grinding).

Transfer them to a large bowl and add sugar, chaat masala powder, black salt and 4 cups water. Stir with a large spoon and mix it properly. Taste for the salt and add as required. Pani is ready; place it in a refrigerator for at least 1-hour before serving or use it at room temperature. If you like soft boondi, mix it now. If you like crispy taste of boondi then mix it at the time of serving.
Method For Masala:
Take mashed potato, kala chana, red chilli powder, cumin-coriander powder, chaat masala powder, coriander leaves and salt (add only if you have not added while boiling the potatoes and chana) in a bowl.

Mix them together with a spoon. Masala is ready.
Assemble Pani Puri:
Take each puri and gently make a large hole on its top-middle side with a spoon or your index finger or thumb for stuffing.

Stuff it with masala (more or less, as you like). Sprinkle onion and sev over it and drizzle a drop of date tamarind chutney over it. Take pani-puri water in a medium bowl. Dip each puri in water and enjoy…
Tips and Variations:
You can use the dried peas ragda as pani puri masala instead of using masala of mashed potato and black chickpea.
Prepare the pani in advance (2-3 hours ahead) and place it in refrigerator to enhance the flavor. Take it out of refrigerator just before serving.
For variation, add 1-tablespoon crushed garlic to prepare garlic flavored pani for pani puri.
Adjust the amount of lemon juice and sugar while making pani to make it taste the way you like it.
Taste:
 Mild spicy and salty
Serving Ideas:
 Enjoy it as a snack.
Other Step by Step Recipes
---
16 Comments
---
Nov 14, 2017 by Ravishankar
Just came across this recipe website.Looks to be very useful & helpful for beginners also.

---
Aug 26, 2017 by simran verma
I really found it amazing. Thank u Foodviva for helping me.

---
Jun 23, 2017 by Nidhi Jain
I have made pani puri it was amazing.All my family members have enjoyed a lot.Thanks for writing a very good recepie.

---
May 18, 2017 by Bela
I made pani of pani puri. It was simply OWESOME!! It was so good that can't stop eating pani puri. I never thought that I will make pani puri pani in my life. The steps are very eays to follow. Thanks for the recipe.

---
Nov 29, 2016 by prashanthigowda
No words, I just enjoyed golgappa thank u so much:-)

---
Sep 25, 2016 by Swati Jagadale
Dhokla recepie is excellent my family like it so much.

---
Aug 26, 2016 by Priya panicker
I can't explain my happiness after eating this.

---
Jul 04, 2016 by ASHA
I tried to make puris. They always getting hard or very very soft and not blow like that. Please give us suggestions.

Response: Hello Asha, follow this link to get detailed description, steps and tips to make perfect puri for panipuri.
---
Jun 10, 2016 by Shruti
Five stars for the pani puri recipe.

I didn't have black salt, yet pani tasted very good. My friends and family complemented me by saying it was better than street side paani.

For the masala, I didn't have chana and sev. I made masala with potatoes, and added chopped onions and coriander in the end. It tasted very good.

---
May 11, 2016 by Manasa
Super easy, useful steps.

---
Mar 22, 2016 by Harsh
What else can we use rather than mint?

Response: Hello Harsh, you cannot use anything else instead of mint.
---
Mar 14, 2016 by Neha Patil
I tried gobhi manchurian. It came out really good. Thanks.

---
Dec 13, 2015 by Junaina
My mom made many dishes by reading your receipes....Thank you.

---
Aug 19, 2015 by Nitikahoney Arora
Awesome recipes .
I made many dishes by reading your recipes.

Response: Thank you for trying recipes.
---
May 23, 2015 by Rachel
I tried making the pani puri and it tasted awesome. Thanks.

---
Dec 29, 2014 by Rumana
I've tried some recipes here, wow wow. It's so great to surprise my husband with new recipes, thank you.

---