Vegetable Khichdi is a tempting and nutritious comfort food from Indian cuisine. This recipe requires sautéing basmati rice, dal and mix veggies in ghee with spices followed by boiling in deep pan to make one of the best veg khichdi. Unlike other khichdi recipes, this recipe uses a deep pan with the lid to get a sparse, uncompressed texture. However, you can use pressure cooker to make it in a traditional way too (see tips given below).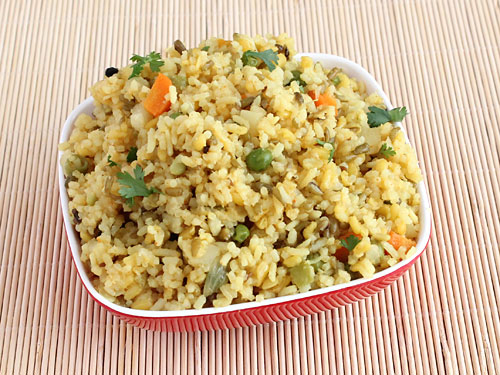 Preparation Time:
30 minutes
Ingredients:
2/3 cup Basmati Rice
1/3 cup Moong Dal (split green gram)
1 medium size Onion, finely chopped
1 cup Mix Vegetables, chopped
3¼ cups Water
2 tablespoons Ghee
4 Cloves
5 Black Peppercorns
5-6 Curry Leaves
1 Cinnamon stick, broken into 2-pieces
2 small pieces of Bay Leaf
1/4 teaspoon Cumin Seeds
1/2 teaspoon Red Chilli Powder
1/4 teaspoon Turmeric Powder
2 tablespoons Coriander Leaves (chopped)
Salt
Notes:
You can use any vegetables of your choice like green peas, French beans, cauliflower, potato, carrot, cabbage etc. to make healthy khichdi with mixed vegetables. To make it even healthier, you can safely increase the quantity of vegetables too. However, you need to increase the quantity of water accordingly.
Directions:
Wash and soak rice and moong dal in water for 30 minutes. Drain and keep aside. Finely chop mix vegetables.

Heat ghee in a deep pan over medium flame. When ghee is hot enough to sauté, add cumin seeds, cloves, bay leaves, cinnamon, black peppercorn and curry leaves. Sauté for 30-40 seconds.

Add chopped onion and sauté until it turns light brown or for approx. 1-2 minutes.

Add mixed vegetables (cabbage, green peas, potato, carrot, french beans) and sauté for 2 minutes.

Add soaked rice, moong dal, turmeric powder, red chilli powder and salt. Mix well and sauté for 2-3 minutes.

Add 3¼ cups water and bring it to a boil. When it starts boiling, cover it with a lid and cook for 10-15 minutes over low flame. Stir occasionally in between to prevent sticking.

Open/remove the lid and let it cook until rice grain is tender and almost all water is absorbed; approx. 2-3 minutes.

Turn off the flame and garnish it with coriander leaves.
Tips and Variations:
If you are a health conscious person, then reduce the amount of ghee to 1 tablespoon.
You can also cook mixed vegetable khichdi in pressure cooker. Use medium size (3-5 liter cooker, pressure cook for 3 whistles, 1st whistle on high flame and remaining 2-whistles on medium flame).
If you like mushy and dense texture, then use short grain rice, add 1 more cup water and let it cook until all water is absorbed.
Serving Ideas:
Serve it on its own or with
cucumber raita
and mango pickle as a light and healthy dinner. Veg khichdi and
Punjabi kadhi
is a traditional combination menu for scrumptious dinner.
Other Step by Step Recipes
---
5 Comments
---
Jan 10, 2018 by Abdul Jaleel
very good

Easy method for preparation

Thanks

---
Aug 19, 2017 by Errol Walsh
I love the look of your food... and Indian food is so healthy... and tasty!
Some of the ingredients are not always easy to find in local shops/supermarkets... is there somewhere you might recommend that I can order spices and other ingredients online?
thanks!

Response: Hello Errol, you can buy the Indian spices and other ingredients from any Indian grocery store in USA and UK.
---
Apr 11, 2015 by Nurali Lakhani
One medium size tomato added to the taste.

---
Dec 02, 2013 by Jayshree
Wonderful, awesome, easy recipe. Me & my family loved this quick recipe. Thank you & keep it up, for your lovely recipes

---
Sep 26, 2012 by Jaya
One feedback. Please keep comments options open so that people can quickly add comments. It will also increase the popularity of this awesome site. BTW good photography.

Response: Thanks a lot Jaya for your nice and positive feedback. Comments are open for everyone on all recipes. Is there any specific thing/feature that did not work or you did not like? Currently we have name, email, rating and spam check mandatory to keep spammers away and encourage the genuine reviews and weed out spam reviews. We have sent a mail to you and you can reply to that as well.
---