Jeera Rice (Zeera Rice or Cumin Rice) is a tempting rice dish of Punjabi cuisine. In its simplest form, it is a steamed rice with nice flavor of pan fried cumin seeds (Jeera). This simple and easy recipe also uses onion and cashew nuts stir fried in ghee to enhance the flavor and palatability. Additionally, instead of using pressure cooker (see tips section to cook rice in pressure cooker) we used deep pan with lid to cook rice having every strand of its grain separated.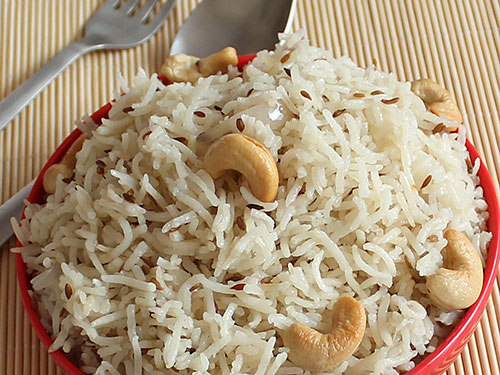 Preparation Time:
20 minutes
Ingredients:
1/2 cup Basmati Rice (long grain rice)
1 tablespoon Ghee or Oil
2 teaspoons Cumin Seeds
1 small Onion, thinly sliced
8-10 Cashew nuts, cut into halves
1¼ cups hot Water
Salt
Directions:
Soak basmati rice in water for 15-20 minutes and drain them.

Heat the ghee or oil in a deep pan. Add cashew nuts and stir fry until they turn light brown. Transfer to a plate.

Add cumin seeds in same ghee and sauté them. Add sliced onion and sauté until it turns light brown.

Add drained rice and sauté for 2-3 minutes.

Add 1¼ cups hot water and salt (according to taste) and cook for 2-minutes over medium flame. After 2-minutes, cover pan with a lid and cook over low flame for 8-10 minutes. Do not open the lid in between otherwise rice may not cook properly.

Turn off flame and let it stand for 8-10 minutes. After 10 minutes, open the lid and transfer cooked jeera rice to plate.

Garnish it with fried cashew nuts and serve hot with dal fry or dal tadka.
Tips and Variations:
You can also cook zeera rice in pressure cooker by following same method. Use 3 liter capacity pressure cooker (aluminum or steel) instead of pan and cook for 3 whistles with 1st whistle on high flame and remaining two whistles on low flame.
Add few lemon drops while cooking rice (in step-5) to prevent them becoming sticky and mushy. It will make each grain separated.
Amount of water required to cook basmati rice may vary according to its type and age. You can get information on how much water is required to cook it in a pan on the backside of a rice packet. Generally, it is between 2 to 2½ cups for most of the varieties.
Taste:
Soft and salty with nice aroma of ghee and richness of cashew nuts
Serving Ideas:
Jeera fried rice can be enjoyed with numerous Indian curries. However, it tastes exceptionally well with various paneer curries with gravy like paneer makhanwala, paneer do pyaza or paneer butter masala. Serve it with Punjabi kadhi, onion riata and masala papad for wholesome meal. In punjab, it is generally served with dal tadka or dal fry.
Other Step by Step Recipes
---
13 Comments
---
Mar 15, 2018 by Emrauwatie Arjoon
Love the details make the pander came out very good

---
Dec 19, 2017 by Vijayalaxmi
Thank you, was trying for the first time yesterday & it turned out very nice but made menial change of not adding onion, still the result was excellent.

---
Feb 28, 2017 by Ramya
Very nice recipe..It is very helpful.. thank u...

---
Sep 10, 2016 by Sarah
Thank you! I tried this recipe and it came out delicious and the rice grains were separate and cooked well. Very easy and tasty rice dish, thank you so much! Your site is an inspiration to me and I have told my friends about you!

Response: You are welcome, Sarah. Thank you for the appreciation, people like you keep us motivated.
---
Sep 10, 2016 by Pranjali
This was the first time I tried my hand at jeera rice; and thanks to your recipe it turned out amazingly well! Just found a go to recipe to make a lot of boring lunches fun. Thank you for making it so easy. Much love!

Response: You are welcome, Pranjali.
---
Jun 01, 2016 by Shanthi
Very nice recipe. Very nice picture. Keep it up, good job.

---
Dec 03, 2015 by Jyoti Pillai
Very much helpful to make a different variety specially in vegetarian dishes are the most challenging task l face everyday. Your recipe was a rescue for me.

---
Oct 31, 2015 by Parita
I love your recipes, they r so easy n simple to understand. Thank u so much..

Response: Thanks Parita.
---
Mar 10, 2015 by Saai
Simple and nice. Can we add ginger garlic paste in jeera rice?

Response: Yes, you can add ginger garlic paste in step-3 with onion.
---
Jan 20, 2015 by Pramila
Simply and very nice recipes.

---
Dec 13, 2014 by Veena.l
Very nice recipe and please send curry recipes.

Response: Hi Veena, you can find the more curry recipes here.
---
Sep 13, 2014 by savita Angadi
Very Good, Please I want cake recipes also.

Response: Thanks savita, we will definitely upload the cake recipes very soon.
---
Aug 29, 2014 by shirley
Excellent. Keep it up.

---